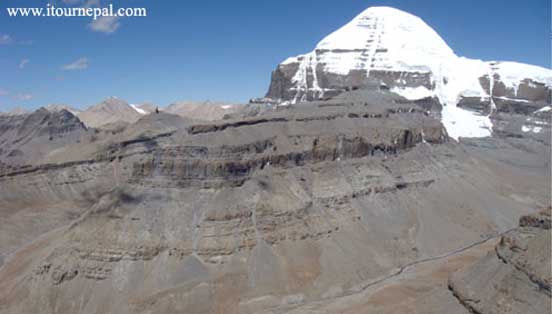 Kailash Tour
"A journey of lifetime that all human beings should make once"
Join our small group or write our experts to customize a private Kailash tour. Our expert team takes you to the most fascinating Kora (Circumambulation) of Kailash, crossing the high pass Dolma La 5,636 m (18,600 ft) above sea level. So as you trek around Mt. Kailash you enjoy the grand views on both sides of the valley and Mt. Kailash from all faces. We also take you for the parikrama (circumambulation) of Manasarovar Lake by jeep and visit some of the monasteries and holy site on the shore of the lake. It is indeed a rare opportunity and privilege for all devotees who have been dreaming to be at the place with such a high spiritual energy.
Why is Kailash yatra, the most sacred ?
The uniquely four faced Mt Kailash and Lake Manasarovar have been pilgrimage from time immemorial, revered by four major religions of the world, i.e. Hinduism, Buddhism, Jainism, and Bon (a pre Buddhist Tibetan religion).
Read
For the Buddhists, Kailash is the center point of the universe. For the Jains, Kailash is the Mt Ashtapada, the embodiment of their 28th Guru. For the Bonpo followers, Kailash is the nine-faced swastika mountain and is constantly emanating great power. For the Hindus Kailash is the Sumeru Parvat, the throne of Lord Shiva and the spiritual center of the world around which all the earthly powers revolve. The Kailash Manasarover region gives birth to four great Asian rivers the Indus, Brahmaputra, Ganges and Sutlej. "As the dew is dried up the morning sun light, so are the sins of human beings cleansed up by the sight of the Himalayas, where Lord Shiva lived and where the Ganga falls from the foot of Vishnu like the slender thread of a lotus flower. There are no mountains like the Himalayas, for in them are Holy Mt. Kailash and lake Manasarovar."
Highlights of Kailash Tour
Shortest possible and economic trip to Mt Kailash.
Trip of remote western Tibet based on decent lodges.
Spiritual journey of Kathmandu and western Tibet.
Adventure of crossing the Himalayas overland.
Road trip of less travelled western Tibet popular for pristine highland pastures, sacred mountains, rivers and lakes.
: Road Trip, trek
: 12 days Kailash Tour
: Difficult
: June - September
: Standard hotel, lodge
: Private vehicle, Flight
3 nights accommodation in Kathmandu with breakfast and taxes included.
Tibet visa and permits
Private transportation from Kathmandu to Kathmandu.
6 nights' accommodation in twin sharing Hotel / Geust house in (Kyirong, Saga and Darchen) and 3 night's accommodation in guest house on group sharing.
Guided tour with all entrance fees included with licensed Tibetan guide.
Porter / yak to transfer luggage during the trek.
Kailash Tour Itinerary
Day 01: Drive to Kerung boarder (8 hrs / 145 km / 3,500 m)
Kerung boarder in north has been international boarder since 2017. The border / friendship bridge is 110 km north of Kathmandu crossing the Himalayas through Langtang national park. We will start early enough to cross the border on the same day. After the immigration formalities on the both side, we will be transferred to the town of Kerung which is about 35 km from the border.
Day 02: Acclimatization day
We will have a leisurely hike to the nearby hill for better acclimatization.
Explore Naylam bazaar in the afternoon.
Day 03: Drive to Saga (6 hr/230km/4,600m)
After breakfast, we will continue our climb towards Tibetan plateau. As we come to the plateau, we will have great views of Tibet's highest mountain including the Mt. Shishapangma (8,012 m). We enter into Shishapanga conservation area and drive past Peiku Tso down to Bramapurta river valley to Saga.
Day 04: Drive to Paryang (185km /4,750m)
After breakfast, we continue our drive across the vast Tibetan plateau, heading west on the left bank of the Matseng Tsangpo River through the villages of Shue.
Day 05: Drive to Manasarovar Lake (310 kms/4,560m)
Today's drive, mostly over 15,500 ft. is enriched with scenic beauty, which compensates the tedious drive. From far away appears the goal of our expedition. The Mt. Gurla Mandhata marks the holy land of Kailash and Manasarovar. As we arrive to the bank of Manasarovar, Mt Kailash appears to the west. After praying our first glimpse of Mt. Kailash, We start our Manasarovar parikrama. The journey is scenic besides being pious. We will stop at several places with crystal clear water and view of Mt. Kailash. We will stop overnight on the shore of Manasarovar.
Day 06: Manasarover Puja | Drive to Darchen (40 km / 4,700m) | Kailash south face view from Austapad
We will enjoy the morning on the shore of Manasarover, perform little Homa puja or prayers and leave for Darchen in the afternoon. Darchen, at the foot of the Holy Mt. Kailash consists a market, Hotel and guest houses for Indian mastery. Here we shall meet our yak men with their yaks, which will be used to transport our tents and personal gear during the parikrama. If the weather permits, drive to Austapad (Serlung Gompa) for close up view of Kailash South face view in the evening.
Day 07: Trek to Dirapuk (18 kms/ 4,950m) | Kailash north face view
From Darchen, our Kailash parikrama begins with a short drive to valley of gods towards northwest. We stop briefly at Tarpuche (Yamadwar) for prayers. Here we meet our yaks and horses. Even though the day is not difficult, we will stop a lot to sort our luggage, yaks and horses and to set them on a trail. The trail follows the valley on a leveled path for 3 hrs and then gradually climb for another 2 hrs to Derapuk on the base of Kailash north face.
Day 08: Trek to Zethulphuk (20 km/4,850m)
The most difficult, also most rewarding day lies ahead of us. In about 3 hours march we gain 2,000 ft height to reach the highest point of parikrama at Dolma la (18,150ft). For non-trekkers it is advisable to hire a horse. The feeling of reaching this point can hardly be described in words. Just below the Dolma - La lies the Gauri Kunda, mostly frozen. From here the trail goes steep downhill and is advisable to make the rest of the walk to our camp on foot than riding horses. About 6 hours from Dolma La we will arrive to mud houses of Zethulphuk.
Note: the trail downward from Dolma La goes mostly over large rock boulders, loose stones and scree. It can be tiring, jumping from one rock to the other.

Day 09: Trek back to Darchen then drive to Manasarovar.
A leisurely walk from Zuthulphuk Gompa is 15 km to Darchen. Zuthulphuk gompa was made at the meditation cave of Tibetan yogi Milarepa (1041-1123). After accomplishing 53 km Kailash cora at Darchen, we will drive back to Manasarover for the overnight stay.
Day 10: Drive back to Saga (3,50 km / 10 hrs)
Day 11: Drive back to Kerung
Day 12: Drive back to Kathmandu | Overnight in Kathmandu Hotel
Kailash Tour info
Kailash tour could be customized with visit to Lhasa or Guge Kingdom. Flying to Lhasa from Kathmandu allows travelers with extra days for acclimatization as well as an opportunity to explore the most sought-after cities of Tibet. Tour Lhasa, Shigatse, Gyantse and then drive to Mt Kailash. Similarly Guge kingdom ruin is the prosperous early Tibetan civilization which disappeared mysteriously. The 10th century capital ruin exhibits palaces, caves, monasteries, houses up on the mountain slope. Extend your Kailash tour to visit Guge kingdom and amire the lost civilization and the surreal barren landscape.
Do not get the Chinese visa if you are going to Tibet from Nepal. Special Tibetan visa is issued on a paper. You can also join the tour from Lhasa, in which case your Chinese visa will be valid. However, in both cases, tourists still needs Tibet Travel permit, Alien's Travel permit and Military permit. Permits could be only issued through travel agency.
In past five years, accommodations have been significantly improved along the route to Mt. Western Tibet being the most remote part of Tibet, there are no higher-end hotels. Decent guesthouses with private bathrooms are available for most of the nights, except in the trek around Mt Kailsh. Towns like Kerung, Saga and Darchen have decent guesthouse with hot shower. Accommodations are limited at Derapuk and Zethulphuk and are available with common bathroom. Sleeping bags and toiletries are must to carry as you may have to share dormitory and use open air toilet.