Short trek in Annapurna Pun Hill
The most scenic short cultural trek in Annapurna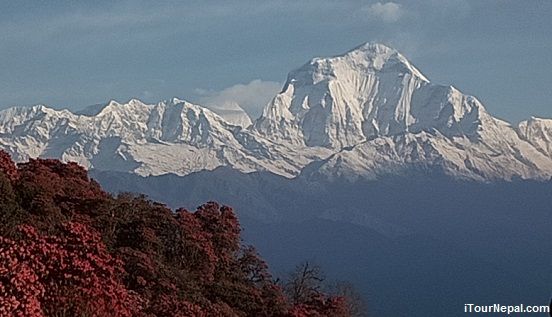 A trek to Pun hill is the most spectacular short trek in the Annapurna region. Pun Hill is perfectly positioned, 3,200 m hill with close up view of Dhaulagiri and Annapurna ranges. The sweeping view of the Kali Gandaki valley wedged between two 8,000 m peaks of Annapurna and Dhaulagiri makes Pun hill the most surreal trek. This short trek is also culturally rich with villages of 'Pun Magar' and Gurungs full with legends of famous Gorkha warriors. This is the most rewarding short trek in Nepal with easy access from Pokhara.
Autumn is the best time for the short trek in Annapurna. The trekking season begins from mid September as the monsoon rain becomes relent. October and November is the peak trekking season with clear sky and moderate temperature. Being a short trek in the foothills, this trek could be done throughout winter. The December sees fewer trekkers while the good trekking weather continues.
Poon Hill Ghorepani 4 days
My friend and I did the poon hill trek with itournepal at the end of March and absolutely loved it! As neither of us were hugely experienced trekkers, Rabi's advice and route planning and knowledge was extremely helpful and he tailored it to what we wanted to see- adding an extra day to go to the jinhu hotsprings. Our guide Dil went above and beyond to make our trek enjoyable, making the journey extremely fun and meant that we didn't have to think about any of the practical stuff like rooms and meals. He is a truly extraordinary guide and would highly recommend. Of course we also could not have done our trek without our porter Basanta too- he was also extremely friendly, and him and dil were very entertaining trekking companions- couldn't recommend this company and the people enough!
Trekking in the Annapurna region in spring was also extremely beautiful with blossoming rhododendrons everywhere- breathtaking scenery, and a good trek for those looking for something slightly easier and shorter!
- Molly P - US - March 2019
More reviews >
Accommodation : Teahouse trek
Difficulty : Moderate with continuous climb of about 1,700 m within two days.
Necessary trekking permits.
3 nights 4 days trekking package from Pokhara to Pokhara
Trekking with a guide and a porter.
Teahouse accommodaiton with three meals a day.
Private transportation to and from the trekking trail head - Pokhara.
Note:
Short trek in Annapura could be customized for 2 days or longer with Annapurna Base camp & Khopra Ridge Trek
Pun Hill trek Itinerary
DAY 1: DRIVE TO NAYAPUL AND TREK TO THIKEDUNGA (1,600 M)
We will drive in a private car to the trekking trail head of Nayapul after breakfast. The scenic drive will take about 1 and half hrs. From Nayapul we will follow upstream Modi Khola for about 30 mints and then cross it at the confluence of Modi and Burungdi River. Follow upstream Burungdi river climbing gradually to Thikedunga at the base of steep 3,000 steps to Ulleri. This 4 hrs walking is a good warm up for the first day or you can even climb 3,000 steps to Ulleri to make the next day easier.
DAY 2: TREK TO GHOREPANI (2,800 M / 6 hrs)
Climbing the steep stone steps would be mild in the morning. The climb will take about 2 hrs. Ulleri is a Magar village dominated by Pun Magars at 2,100 m. From the village we will get the first view of Annapurna south and Mt. Fishtail. From the Ulleri village, the trail climbs gradually into the shed of alpine forest. The forest walk is intermediated by group of teahouses catering trekkers. Ghorepani is a mountain pass below Pun Hill, overlooking at the world's deepest valley (Kaligandaki) wedged between Dhaulagiri and Annapurna ranges.
DAY 3: SHORT HIKE TO PUN HILL | TREK TO TADAPANI (5 HRS)
Sunrise view from the Pun Hill is the highlight of the pun hill trek. The hilltop at 3,190 m is 50 mints climb from Ghoprepani. As the early rays of sun hits snow peaks, its color changes from pink to red. Panaromic view of over 15 peaks of Dhaulagiri, Annapurna and Manaslu ranges appear unreal. From Pun Hill one can see some of the world's highest peaks including Dhaulagiri (8,167m / 7th highest), Annapurna I (8,091 m / 10th highest) and Manaslu (8,157 m / 8th highest)
Climb down to Ghoprepani and prepare for another beautiful day's walk to Tadapani. The trail at first climbs to the ridge top towards east and then follows the ridge dense with Rhododendron to Deurali. Another three hours of walking through the rhododendron forest will take us to Tadapani at 2,500 m. From Tadapani, we have closer view of Annapurna South and Fishtail.
DAY 4: SHORT WALK TO GHANRDUK ( 4 hrs / 1,900 M) | Drive back to Pokhara
Walk down to Ghandruk. Ghandruk is a charming mountain village in the forefront of Annapurna South and Mt. Fishtail. Thatch and slate roofed stone houses dominates the village surrounded by farming terraces. This is bhold of Gurung - tribe that was famous as 'Gurkha Soldiers.' Enjoy the view of Annapurna South, Huinchuli and Mt Fishtail while having lunch and trek further down for about 1 hr to catch a ride back to Pokhara.
Other short treks in Annapurna
Mardi Himal Trek - 7 days
Mardi Himal trek is short and pristine trek that was only open for teahouse trekking in 2013. The trek could be customized within 7 days from Pokhara to Pokhara. The trail mostly follows the ridge climbing gradually to the buttresses of Mardi Himal making it relatively easier climbing and more scenic trek in Annapurna.
Mardi Himal trek details
Khopra Ridge & Khair Lake Trek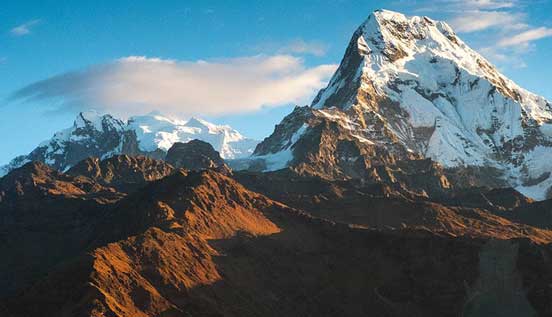 8 days, pristine & scenic short trek in Annapurna that goes off the busy trail to the Khopra Lake at 4,500 m.
About Khopra & Khair Lake Trek
Siklis Trek - 4 days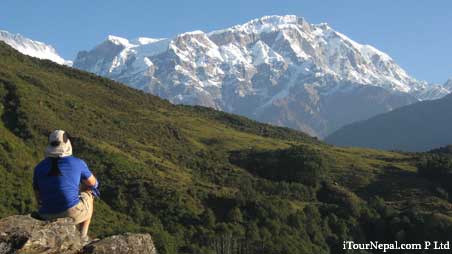 Siklis village is located in the foothills of Annapurna right north of Pokhara. The village is one of the oldest and largest Gurung settlements. Short trek of 3 – 4 days could be planned visiting the view point of 'Tara hill top' and Siklis village.
About Siklis Trek