Short trek in Annapurna
The most scenic short cultural trek in Annapurna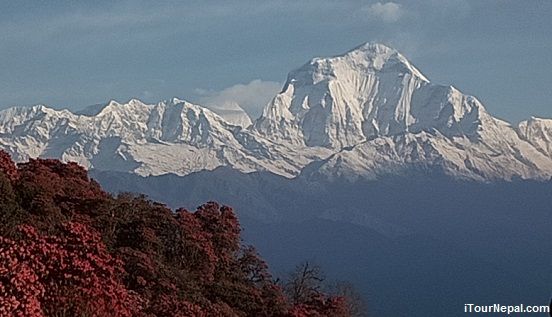 A trek to Pun hill is the most spectacular short trek in the Annapurna region. Pun Hill is a perfectly positioned, 3,200 m hill with up-close view of Dhaulagiri and Annapurna ranges. The sweeping view of the Kali Gandaki valley wedged between two 8,000 m peaks of Annapurna and Dhaulagiri makes Pun hill the most surreal trek. This short trek is also culturally rich with villages of 'Pun Magar' and Gurungs with legends of famous Gorkha warriors. This is the most rewarding short trek in Annapurna with easy access from Pokhara.
Pun Hill trek starts 1 ½ hrs drive to Nayapul from Pokhara. The trail then climbs gradually through the charming villages with terraced farms and finally enters into the Rhododendron forest. Two days of climbing brings us to the mountain pass village of Ghorepani. Poon Hill is the view point reached by one hour walking from Ghorepani. The route of this short trek in Annapurna then follows the scenic ridge to Tadapani and back down to Nayapul.
Pun Hill Ghorepani 4 days
We had great one week trip to Nepal in November 2021 . The tour guide Rabi took care of all our needs from airport pick up, drop off, stay in Kathmandu, Pokhara, 4 days Poon hill trek. The stay in hotel and in tea houses, food, porter, car/jeep rides, sightseeing everything was well planned and executed. Due to weather, there were changes needed in itinerary and he made necessary timely adjustments. Rabi is well read and very knowledgeable about the Napal, Tibet and various countries. He gave lot of information to make a very informative trip.
We will be surely visiting Nepal again since so much left to see. Surely, Rabi will be our first choice for all future trips. I will highly recommend Rabi and his team for any trek, spiritual trip or sightseeing.
- Gayake - US - November 2021
More reviews >
Accommodation : Teahouse trek
Difficulty : Moderate with continuous climb of about 1,700 m within two days.
Being in the foothills of the Annapurna, this trek could be done throughout the winter.
Necessary trekking permits.
3 nights 4 days trekking package from Pokhara to Pokhara
Trekking with a guide and a porter.
Teahouse accommodaiton with three meals a day.
Private transportation to and from the trekking trail head - Pokhara.
Note: Short trek in Annapura could be customized for 2 days or longer with Annapurna Base camp & Khopra Ridge Trek
Pun Hill trek Itinerary
Best short trek for autumn 2022
With the crisp sky and moderate temperature, autumn is the best time to do Ghorepani Poon Hill trek. The trek could be customized from 2 day to a couple of weeks. Prepare for the temperature ranging from 5 - 24°C during the autumn. The temperature of Poon Hill may reach freezing point before dawn when trekkers climb there for a sunrise view.
Short Annapurna trek in Winter
Ghorepani Pun Hill Trek is the best trek for winter month of February. Days are clear and the snow at higher reaches of the trek makes it fun and picturesque. You can
check more recent winter trek pictures at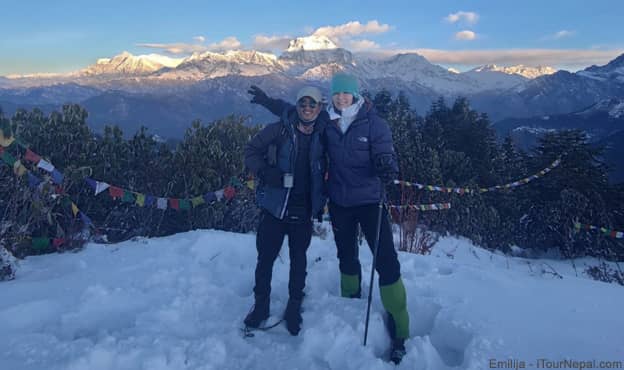 Annapurna trek to see Himalayan flowers in Spring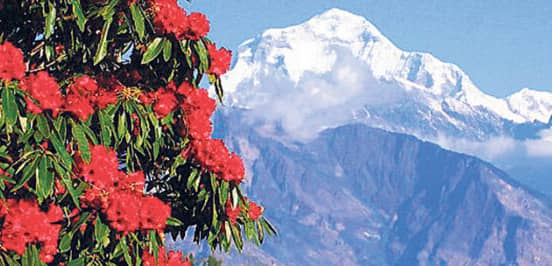 The Spring months of March, April and May add brilliant colors to the Himalayan vegetation. Walk through Rhododendron forest bedecked with 300 species of Orchids, Mangolia, Bauhinia, Iris, Primrose and hundreds of other wild flowers. Spring comes late at higher altitude making the floral season last throughout summer.
---
Other short treks in Annapurna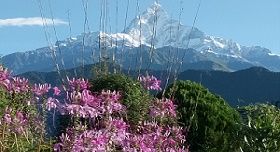 3 days | September - June
Grade : Easy
This short trek around Pokhara spends night at the scenic view top like Australian camp (2,060 m) and Astam village.
---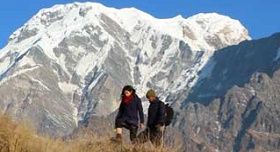 7 days | March - May
Grade : Moderate
This is relatively easy and short trek in Annapurna. Mardi Himal Trek could be customized for as less as 5 days from Pokhara.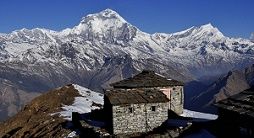 8 days | March - May
Grade : Difficult
Short trek in Annapurna to the Khayer Lake and Khopra danda is an off the bitten path trek based on community lodges.
---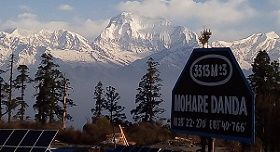 8 days | September - June
Grade : Difficult
Short trek in Annapurna to the Khayer Lake and Khopra danda is an off the bitten path trek based on community lodges.