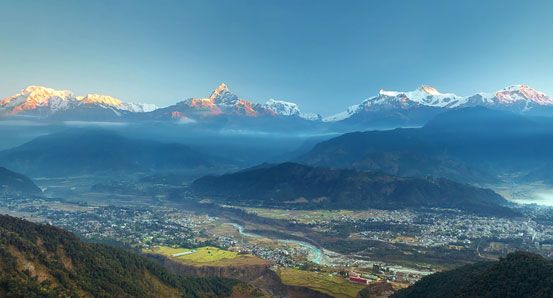 Pokhara is popular for its natural ambiance, 3 lakes and Himalayan scenery. From Pokhara great Himalayan Peaks can be admired without disturbance as close as 30 km. The 8,000 m giants visible are Dhaulagiri (8,167m), Annapurna I (8,090m) and Manaslu (8,163m). Pokhara itself is blessed with sub-tropical climate for lush vegetation and natural settings.
पोखरा भ्रमण - २ रात ३ दिन
रु ९८००
रु ९८०० प्रति व्यक्तिमा निजी गाडी, २ रात तारे होटेलमा ब्रेकफास्ट सहितको बसाइ तथा सराङकोट सहित सम्पूर्ण पोखरा भ्रमणको बेबस्था हुन्छ । बूकिङ को लागि
Includes :
Kathmandu - Pokhara - Kathmandu AC toursit bus
AC room with breakafast and taxes included.
Guided sightseeing with all entrance fees included.
All sightseeing transportation by private car.
A day hiking trip Australian camp (2,060 m) - Dhampus - Dhital - Baskot - 6 hrs
Thangs to do in Pokhara
phewa Lake
Phewa Lake is the center of all attraction in Pokhara. It is the largest and most enchanting of three lakes that add to the resplendence of Pokhara. Boating in the Phewa lake also offers insight into bird life of Pokhara and undisturbed view of Himalayas. Lakeside is the most happening tourist center of Pokhara.
World Peace pagoda
This Pagoda is situated on the top of a hill on the southern shore of Fewa lake. It has four images of Buddha facing in four directions. The Pagoda is an impressive sight and its hilltop location commands a grand view. It is a great vantage point, which offers spectacular view of the Annapurna range and Pokhara city.
Sarangkot sunrise view
Sarangkot, a fortress site, overlooking Pokhara Valley is only 20 mints drive away from the lakeside. The hilltop offers a grandstand view of both sunset and sunrise over the Annapurna, Dhaulagiri and Machhapuchre.
International Mountain Museum
International Mountain Museum provides information on mountaineering, the world's mountain system, mountain cultures, environments, prominent people in mountain history, mountain geography, ecology, exhibition of mountaineering history and implied methods. The museum is perfectly located as three 8,000 m mountain could be seen from the venue.
Begnas & Rupa Lake
Begnas Lake is situated in the eastern part of Pokhara valley, at a distance of 15 km from Pokhara. Tourist can relax in the lodges and resorts situated alongside the lake. Yet another popular lake of Pokhara is the Rupa Lake. It is separated from Begnas Lake by a bridge known as Pachabhaiya. The lakes offer the prefect nature retreat because of their relative's seclusion and opportunities for boating and fishing.
Tibetan Refugee Camps
Since 1959, a group of Tibetan refugees have been living in Nepal. One such is Tashiling Tibetan Refugee Settlement at Chhorepatan, which is located near two popular sightseeing sites i.e. Devi's Fall and Gupteshwar Mahadev Cave. One may visit Tibetan monastery, hand-made carpet factory, schools etc. in this community. Another village is in Hemja, 7 km west from Pokhara.
Devi's Fall
Locally known as Patale Chango (Hell's Falls) also know as Devins and Davids is a lovely Waterfall is about 2 km south West of Pokhara airport on the Siddhartha Highway. Legend has it that a trekker by the name of Davy, was washed away by the Padi Khola and mysteriously disappeared down into an underground passage beneath the fall.
Gurkha Memorial Museum
Pokhara and its surrounding is mainly the homeland of the world famous Gurkha soldiers. Reminding the reminiscence of those soldiers, Gurkha Memorial Museum has been established in the premises of the British Camp. It contains a collection of used uniforms, Medals, Pictures and more materials used by those brave and courageous soldiers during the first and second wartime.