Follow the trails traced and maintained by shepherds and villagers walking for their daily chores over hundreds of years. Reach the less explored destinations in Annapurna and enjoy the most serene Himalayan views from the location very few have reached. 
Off the beaten trail trekking route in Annapurna avoids the classic trails to Ghorepani and Annapurna base camp and winds through the most pristine villages and forests coming to the more scenic view points than Poon Hill. The community lodges accommodates trekkers and the villagers cater to trekkers needs with their warm hospitality. While you get to walk the less crowded trails, the money supports sustainable tourism and the community. 
Highlights of 'Off the beaten track in Annapurna'
Unlike many other off the beaten path treks, availability of community lodges and homestay make it cost effective as well as support the local economy.
With views of two eight thousand meter peaks and many other popular mountains, Annapurna is the second most popular trekking region in the Himalayas.
 
Off the beaten path trek in Annapurna could be combined with popular destinations like Annapurna base camp, Ghorepani / Poon Hill or Mahaslu trek.
3 off the beaten path treks in Annapurna
1 Khopra Danda Trek
Khopra danda (ridge) at 3,660 m lies at the buttresses of Annapurna South in the north of classic Ghorepani - Ghandruk trail. An off the beaten path trek to Khopra danda - Khair Lake via Mohara danda could be done from one week to two weeks combined with Annapurna base camp and Mardi Himal.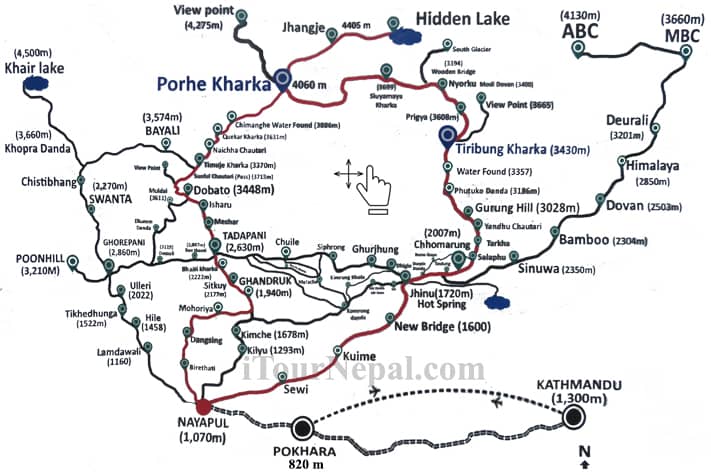 2 Kapuche Lake - Kori Danda Trek
A short off the beaten path trek in Annapurna could be organized from 4 days to a week in the Siklish - Kapuche - Kori danda. The trek was earlier popular as a short organized trek. It is possible to do the trek based on basic teahouses and homestay.
Day 01: Kathmandu arrival
Day 02: Drive Kathmandu to Pokhara (6 to 7 hours)
Day 03: Drive to Sikles ( approx 2 hours) and explore a huge village of Gurung
Day 04: Trek to Hugu Goth (5 hours)
Day 05: Hike to Kahphuche Lake2450m (Kapuche Lake) and back to Hugu Goth (2 hours 30 min to go up)
Day 06: Trek to Nohtha (5 hours)
Day 07: Trek to Kori Danda (3800m), approx 5 hours
Day 08: Trek back to Sikles
Day 09: Drive to Pokhara (explore)
Day 10: Drive back to Kathmandu
Day 11: Kathmandu Sightseeing
Day 12: Departure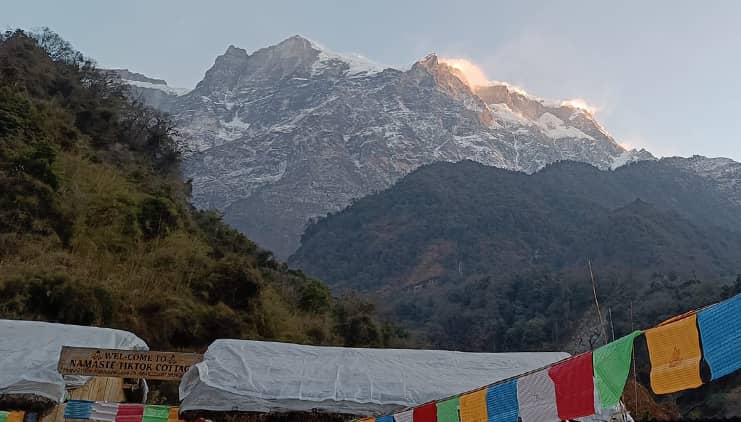 3 Nar Phu Trek
Duration : 9 - 12 days
Attractions :Hidden trans-Himalay villages with Tibetan culture
Season : March - May | Spetember - November
Accommodation : homestay, teahouse
Grade :
Difficult to strenious
High altitude trek with each day's walking of about 7 hrs and passes of over 5,000 meter, rugged trails with steep ups and downs.
A trek to Nar Phu is the most unspoiled but rugged and strenuous trek in the Annapurna. Opened only in 2003, Nar Phu is the hidden valley bordering Tibet. Its charming villages with Tibetan Buddhist imblims and pristine landscape accessed by very few tourists make it the best off the beaten path trek in Nepal that could be done based on teahouse or homestay. 
A requirement of a special restricted area permit and sustainable tourism initiatives taken, help to preserve its self-sufficient medieval Tibetan lifestyle and culture. 
Nar Phu Trek could be planned for as short as 9 days from Kathmandu and back and costs about USD 990 / person.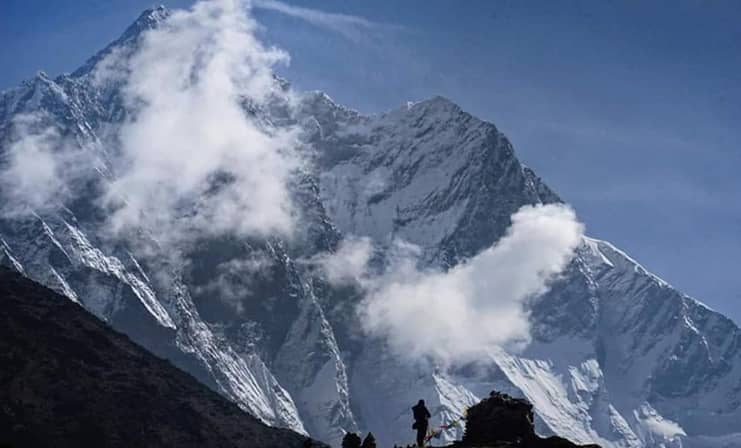 Trek caution
When embarking on these off-the-beaten-path treks, it's important to be prepared, as facilities and services might be more basic compared to the well-trodden routes. You need to have a good supply of backup batteries for your gadgets and also snacks to nibble on. It's also a good idea to travel with a reputable guide who is familiar with the area and can ensure your safety and provide insights into local culture and customs. Our guides are licensed, insured and specialized on these off the beaten path treks in Annapurna. We have the latest information about the weather, travel advisories and permit requirements.