Honeymoon tour in Nepal
Honeymoon and wedding anniversary tour special
The common belief about wedding in the Nepal is that marriages are made in heavens and celebrated on Earth. It is the physical, mental and spiritual bonding of two souls.
The other equally important aspect of wedding is the memorable honeymoon. What could be more special honeymoon than being in the Himalayan gateways in Nepal, amid amenities and services to spoil you ! Himalaya is no more remote with our courtesy. Jacuzzi, spa, private yoga, Ayurvedic massage and more, all in the amphitheater of Himalayas visible from your honeymoon suite.
Wedding anniversary in Nepal
is a venture to explore new destination and new side of your relationship. It is perfect way of revitalizing any committed relationship after years or decade of your wedding. Wedding anniversary tour in Nepal is perfect vacation with romance, intimacy and trust. For young and adventurous couple, there are moderate and short treks with luxury lodges. For those planning to celebrate their 10th anniversary or silver and golden anniversary, we have more leisurely holiday with handpicked activities and destinations.
Nepal Honeymoon Tour Highlights
Luxurious private villa or resort accommodations with view of Himalayas.
Relaxing couple's spa and wellness package.
Exploration of charming medieval towns of KathmanduLearn about the spirituality and happiness while exploring he Hindu and Buddhist monuments.
Relaxing jungle safari activities based on a jungle resort in a most pristine location.
 Everest and Himalayan sightseeing flight by helicopter or fixed wing flight.
 Village tour and nature walks from a tranquil mountain resorts with panoramic view of the Himalayas.
All Nepal Tour Review
My wife and I spent 8 days in total in Nepal. With so many places to visit and each area requiring transport/ accommodation we figured it would be best to find a tour that could provide a complete package. iTour and Mr Rabindra (and his excellent team) were fantastic, we were truly impressed by the quality of hotels,vehicles,activities per day and most important of all the staff! (tour guides spoke excellent english and had extremely good knowledge of the areas) The tour was completely comprehensive so all we had to worry about was our day to day spending and the plan was extremely well laid out as to give us the best experience.
-
Nabil and Alice
How Much a honeymoon package costs ?
A week's honeymoon trip to Nepal costs from
USD 1980 for a couple to 9900
. This will include from simple boutique hotels to world class accommodations with rejuvenating wellness package, all transportations, domestic flights, entrance fees and guided activities.
Nepal Honeymoon Tour Itinerary
DAY 01: ARRIVE KATHMANDU, NEPAL
You will be picked up and greeted by our represent at the airport. A luxurious ride will take you to your honeymoon suite. Greetings with smile await you at every step. Relax and put your feet up, enjoying authentic Ayurvedic massage or spa that soothes you mentally and physically.
DAY 02: Glimpse of Kathmandu
Sexual energy is spiritual energy once realized. Enlightenment is the harmony between 'Shiva' (male) and 'Shakti' (female) resembling the static and dynamic energy. These are a few of the teachings of Tantra that is widely practiced in Kathmandu. 'Kamashutra' was promulgated later as an art of sex which left a deep impression in Nepalese art and craft. Discover the romantic art and architecture in the UNESCO Heritage sites of Kathmandu. Easy, relaxing honeymoon walk around the city and old market. Enjoy Ayurvedic massage or spa.
DAY 03-04: ROMANCE IN POKHARA
In the late morning we will take a 25 minute scenic flight to Pokhara. We have a list of recommendations regarding the best honeymoon resort. Activities will be chosen as per your interest. Share a light moment with your beloved one rowing in Lake Phewa. Enjoy Nepalese wine while watching Pokhara valley from the hilltop of the world peace pagoda. Stay in a resort along the ridgetop to watch sunrise over the Himalayas from your room. OR, spice up your honeymoon by taking soft adventures like hiking, Paragliding, Zip flying and Ultralight flight to Himalaya.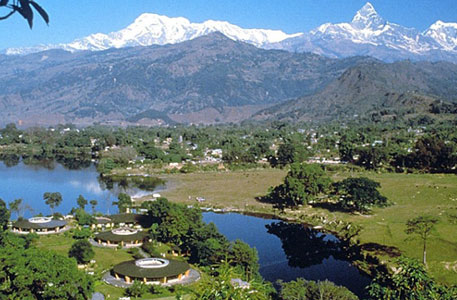 DAY 05: BEGNAS LAKE RESORT | HIMALAYAN NATURE SPA | VILLAGE TOUR
Drive 35 km east to the Begnas Lake. A resort boat will ferry you to the tranquil southern shore of the Begnas Lake hidden well in thick woods. Guest room windows look right out over the Himalayan peaks atop rice terraces across the Begnas lake. Spoil yourself with aromatic Spa and Jacuzzi or Ayurvedic Massage. Village walk in the evening to the community coffee collection center and learn about coffee farming.
DAY 06: WALK BACK INTO THE TIME IN BHAKTAPUR | FEEL THE HAPPINESS OF THE MOUNTAIN (NAGARKOT)
Fly back to Kathmandu and visit the medieval town of Bhaktapur. Bhaktapur is famously known as a living museum. Walk through the alleyways and observe the stress free medieval lifestyle actively interacting with its architectural heritages. Drive to the hill station at Nagarkot at 2,100 m overlooking the eastern Himalayas.
DAY 07: REJOICE OF KATHMANDU
Fly back to Kathmandu. There are lots of activities to rejoice. You can visit popular temples to learn about life and spirituality from the mountains. Pashupatinath and Boudhanath are where you see different aspects of Hindu and Buddhist life. Explore the city or share light moments shopping. Rejuvenate yourself with Ayurvedic wellbeing facilities.
DAY 08: FAREWELL FOR COUPLE
With sweet memories, you will bid goodbye to everyone. You will be wished good luck with a Buddhist Scarf shrouded around your neck. This nuptial affair will help you prosper in the relationship.
---
Luxury safari lodges in the pristine end of the Chitwan national park provide easy and relaxing jungle safari activities for honeymoon couple. Enjoy the thrill of jungle brought to you with safety and style.