Nepal Bhutan Tour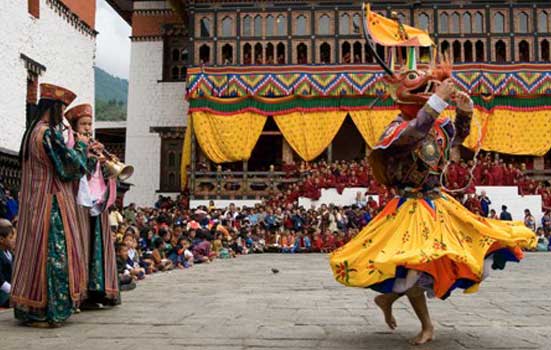 Nepal and Bhutan occupy the most remote landmass in the Himalayas. The invincible Himalayan landscape safeguarded diverse cultures and practices unstained until now. Nepal was safe hideout for immigrants and political renegades from both India and Tibet from the ancient time. The vertically rising slope of Nepal and Bhutan nourished diverse flora, fauna and ethnicity. Nepal Bhutan Tour offers best of Himalayan scenery, cultural and biodiversity.
12 days Nepal Bhutan Tour includes the best of Nepal and Bhtuan. The starts and ends in Kathmandu from where we will fly and drive to the popular touring destinations. Thimpu, Punakha and Paro are the major valleys in Bhtuan with its best forts, monasteries and natural sites. Nepal tour includes wildlife safari in Chitwan national park and the Himalayan sightseeing from Pokahra. While in Kathmandu, sightseeing of heritage sites is organized.
Nepal Bhutan tour can be customized from 8 days or longer with trekking or driving through Sikkim to Phuntsholing, Bhutan.
Tour inquiry > | Go to Itinerary
Accommodation : Hotel (Standard & Deluxe)
Transport : Private car & Flight
This 12 days tour can be organized for USD 2,250 / person based on standard hotels.
Best time is from Mid September - December and March - May, but the tour could be done throughout winter as the touring places are in lower valleys.
Kathmandu and Bhutan Tour
Amazing yet again! This was my second trip with iTourNepal.com. Rabi is great at organizing everything and ensuring a comfortable and safe trip. I was a solo female traveller and have enjoyed both trips with Rabi.
I would highly recommend him. Rabi can put anything together for you.
I was worried about visiting in July during monsoon but I didn't see a drop of rain! wonderful trip. I will use iTourNepal.com again next year to do EBC and Tibet.
Llinos R - Dubai

Tour Reviews >
Nepal Bhutan Tour Itinerary
Day 01 : Kathmandu, Nepal arrival | Transfer to Hotel
Day 02: Kathmandu Tour (Kathmandu Durbar Square, Boudhanath, Shyambhunath and Pashupatinath)
After scrumptious breakfast, go on a Kathmandu sightseeing with our expert guide. A day with local guide will give you totally different perspective of the town. Kathmandu has got pagodas, pavilions, sunken water spouts, palaces and great stupas from ancient to medieval time. This is where one can see the magnificence of Newari art, craft and architecture along with great cultural diversity.
Day 03 : Fly to paro, Bhutan and drive to Thimphu (55 km / 1 & 1/2 hrs)
The 1 hr flight from Kathmandu to Paro is panoramic thrill with the view of sprawling Himalayan peaks crowning lush mountainous country. Our Bhutanese represent / guide will pick us up and together you will drive to Thimphu. Enjoy the scenic drive along the Pachu River. Make break to cross the 15th century suspension bridge and visit the Tachog Lakhang (temple). Check in hotel in Thmphu and if the time permits we will visit the Farmer's market, Archery march and the craft bazaar.
Day 04: Thimphu sightseeing and drive to Punakha over Dochu la pass (3,140 m) – 85 km / 2.5 hrs
After breakfast tour around Thimphu. We will visit Tashichho Dzong, Memorial Chorten, Buddha Dordenma Statue and the school of traditional painting. You can also visit National Library and Institute of traditional medicine. In the late afternoon, drive to Punakha via Dochula pass. The pass is marked by 108 chortens and offers magnificent view of the Himalayas. Visit the Druk Wangyal lakhang and drive to Punakha.
Day 05: Punakha sightseeing and drive back to Paro
In Punakha we will visit Punakha dzong and Chhimi Lakhang. Chhimi Lakhang is known as fertility shrine where the locals visit to get the blessing of fertility. Walk for about 20 mints through the paddy fields to reach the shrine. The Punakha dzong is situated on the island between two rivers Pho Chu (male river) and Mochu (female River). In the afternoon, drive back to Paro.
Day 06: Hike to Tiger's nest and Paro sightseeing.
Drive 20 mints to the base of Tiger's Nest ( Taktsang monastery ) and hike for about 1.5 hrs to the cafeteria which offers great view of the monastery. Then climb further 1 more hour to the Tiger's nest monastery perched on the cliff. Walk back down and visit the farmhouse for lunch with the family. Later visit Kichu Lakhang built in 7th century by the Tibetan emperor Songsten Gampo. This is one among the 108 temples built by the Emperor.
Day 07 : Fly back to Kathmandu | Connection flight to Pokhara
Enjoy the short scenic flight looking at the long range of the Himalayas. Our represent will pick you up from the Kathmandu airport and check you in the domestic terminal for the flight to Pokhara. This 25 mints flight looks into the Himalayas west of Kathmandu. Check in hotel and have easy day in the town with setting of snow peaks and lake.
Day 08 : Sunrise view from Sarangkot and Pokhara tour
In the morning, drive 25 mints to the view point at 1,500 m overlooking at the Pokhara valley with panorama of Annapurna. The change in color of sky and snow peaks make the scenery photogenic. Drive back to the hotel and go on a tour after breakfast. Pokhara tour is about getting the feel of nature, Himalayan scenery, geography and historical events. We will visit International mountain museum, cave waterfall (Devi's Fall from cave) and Tibetan Refugee camp. Take a boat across Phewa lake and hike 1 hr to World Peace pagoda. Drive back to hotel.
Day 09 : Drive to Chitwan (160 / 5 hrs) | Check in Safari Lodge and join safari activities
Drive through the lush valley with charming villages and terraces. The road snakes along Marshyangdi River and then follow Trishuli River out of the mountains. Chitwan is tropical region at the altitude of 150 m. Check in safari lodge nest to the jungle and join the lunch. Later go for a walk and watch beautiful sunset bringing birds and animals to their shelters. You will be taken for Tharu cultural show. Tharu are the aboriginals from Chitwan who had great survival skills in the jungle. Join the buffet dinner and sleep with the sounds of jungle.
Day 10: Jungle safari
Chitwan national park is the last remnants of the jungle that once spread from the foothills of the Himalayas till the Ganges. The national park has been successfully preserving the last no of Royal Bengal Tigers and Asian single horned Rhinos. Go on a canoe, elephant back and on foot to look for wildlife. Visit the Elephant breeding center and give a bath to the elephant. Learn about the wide range of birds that migrates all the way from Siberia and acknowledge how we are connected globally.
Day 11: Fly back to Kathmandu. Pick up and visit Bhaktapur and Patan.
After spending beautiful morning in the ambiance of jungle, drive to the airport to fly back to Kathmandu. Our guide will pick you up from the airport and together you will visit Bhaktapur and Patan. Bhaktapur is know as living museum for it still retains its age-old lifestyle in harmony with its medieval monuments. Patan on the other hand is the Buddhist town with hundreds of monasteries from 6th – 16th century.
Day 12: Drive to the airport for final departure.
tour inquiry >
Package Includes
Bhutan visa and permits. Nepal visa you can get on arrival.
All regional and domestic flights mentioned in the itinerary.
All ground transportation by private car.
All accommodation with breakfast and taxes included.
All meals in Bhutan
Guided sightseeing with all entrance fees included.
2 nights 3 days Chitwan safari package with all meals, safari activities and park fees included.
Package Excludes
Any type of insurances.
Delay and cancellation because of natural phenomenon.
Meals beside breakfast except in Bhutan and Chitwan national park.
Bottled drinks beverages and anythings purchased by clients.
Tips (service charges are included in hotels and restaurants.)