Nepal Heritage Tour
Tour UNESCO world heritage sites of Nepal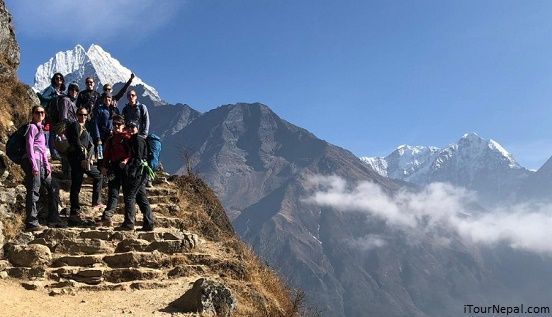 See Mt Everest, Royal Bengal Tiger and Lumbini, the birthplace of Buddha in a 14 day Nepal heritage tour. Visit all 4 UNESCO world heritage sites of Nepal.
Nepal heritage tour is 14 days Nepal tour visiting the 4 UNESCO World heritage sites of Nepal. Everest, Chitwan, Lumbini and Kathmandu represent the best of Nepal's nature, culture and spirituality. The best way to explore Everest (Sagarmatha) national park is by short cultural trek. The trekking route goes into the heartland of Sherpas to Namche Bazaar offering a great view of Everest and other peaks. The short trek in Everest national park could be organized based on luxury and deluxe lodges.
Chitwan National park is another World Heritage Site in Nepal. This is where last numbers of Royal Bengal Tiger and Asian single horned Rhinos are preserved. About 150 km southwest of Chitwan lies Lumbini, the birth place of Buddha. With great archaeological findings, Lumbini is now the center of pilgrims and people on spiritual quest. While we are in transit from the trek and tour, we will go around heritage sites of Kathmandu.
The Nepal Heritage tour could be customized for

8 day

with Helicopter tour of Mount Everest instead of a trek.
Write to us to customize a tour.
: Nature, culture, wildlife
: 14 days
: Moderate

Best Nepal Tour for Spring
Winter till Spring is the best time for the heritage tour of Nepal. The temperature is moderate ranging from 0℃ - 30℃ depending upon location. Clear sky guarantees the Himalayan views and the warm and sunny days make the sightseeing comfortable.
8 % off till September
3 star hotels - Lodge based Everest trek, Hotel Holy Himalaya - Kathmandu, Hotel Parkland - Chitwan, Hotel Ananda Inn - Lumbini
4 star hotels - Everest trek based on standard room, Hotel Mulberry - Kathmandu, Buddha Maya Garden - Lumbini, Sarang wildlife Resort - Chitwan
Luxury hotels - Everest trek based on luxury lodges, Hyatt Regency - Kathmandu, Fishtail Lodge - Pokhara, Barahi Jungle Resort - Chitwan
All accommodation w/ breakfast and taxes included.
All ground transportation by private vehicle.
Lumbini to Kathmandu flight
Guided sightseeing of Kathmandu and Lumbini.
2 nights 3 days Chitwan jungle safari package with all meals, safari activities, park fees included.
Short Everest trek package with necessary trek permits, Ktm - Lukla -Ktm, trekking with Guide and porter and three meals a day included.
Nepal Heritage Tour Itinerary
DAY 01: ARRIVE TO KATHMANDU, NEPAL
You will be received at Kathmandu airport by our represent. After formal meeting, drive to the Hotel. There is an option of familiarization walk in the evening that ends with an attractive dinner.
Day 2 - 6: Short Trek in Everest (Sagarmatha) National park
Sagarmatha National Park was listed as a UNESCO World Heritage Site in 1979. Mystic mountains with the highest Mt Everest, glaciers and deep valleys thrived by famous climbers - the Sherpas made it to the list. The National park shelters the last numbers of Snow Leopard and Lesser Panda. Sherpas retained their mystic culture unlike their Tibetan neighbors.
Everest trek itinerary
DAY 02: Fly to Lukla (2,800m) | Trek to Phakding (2,750m / 4 hrs).
Day 03: Trek to Namche (3,440m / 6 hrs). Overnight in a luxury lodge.
Day 04: Namche Rest | Day hike to Everest veiew Hotel, Khumjung village with Sir Edmund Hilary School and local monastery with Yeti skull.
Day 05: Trek back to Phakding
Day 06: Trek back to Lukla
NOTE: Alternate to the trekking, you can take Helicopter tour of Everest base camp with breakfast at Everest view hotel (Hotel at the highest point in the world).
Day 07: Fly back to Kathmandu | Kathmandu Sightseeing
We will fly back from Everest Region (Lukla) in the morning. Just chill out till noon. In the late afternoon we will visit Shyambhunath Stupa (Monkey Temple) and Kathmandu Durbar Square of Kathmandu cultural heritage site.
Day 08: Drive / Fly to Lumbini | Check in Hotel | Lumbini Tour
Lumbini - the birth place of Buddha is the latest of the Nepal's World Heritage Sites. The finding of 'marker stone' as a birthplace of Buddha is s greatest archaeological triumph of mankind. Beside that monastic zone comprises monasteries depicting Buddhist practices in different part of the world and a museum houses articulates found from excavation for the Buddha's era. The 3 sq. miles area of Lumbini is also a reserve for wildlife and bird.
Day 9-10: Chitwan National park jungle safari
After spending a beautiful morning in Lumbini, We will drive for 3 hrs to Chitwan. Chitwan National Park is declared as World Heritage Site under the category of Natural Sites by UNESCO. 8% of the world bird species, rare mammals including one horned rhinoceros and the bengal tiger makes it exclusive. Chitwan safari includes elephant safari, canoe ride to observe crocodile, bird watching, elephant bathing and more.
Day 11: Drive / Fly back to Kathmandu
Day 12: Kathmandu and Patan Tour
Out of over 130 distinguished temples and over 5,000 monuments in Kathmandu, 7 group of temples and palaces are recognized as World Heritage Sites by UNESCO. We will visit Pashupatinath, Boudhanath and patan on the day.
Day 13: Bhaktapur and Changu Narayan tour
Bhaktapur and Changunarayan are the last but not the least in our itinerary. While Changunarayan is the oldest pagoda style temple in the valley, Bhaktapur is the living museum. Both are marvelous World Heritage Sites.
Day 14: Drive to the airport and fly back.
---
Best two week's Nepal Tour
The Heritage tour is the best two week's Nepal tour that visits the World Heritage sites of Nepal. This is the best way to spend two weeks in Nepal with a short trek in Everest national park and a tour of world heritage sites.
Customize Nepal Heritage Tour
The Nepal Heritage tour could be customized as an 8 days Nepal tour. It is possible to fly to Mt Everest base camp and back by helicopter within 3 hrs. The Everest base camp helicopter sightseeing trip costs about USD 4,000 shared by three members. But during the peak tourist season of October, November, March and April, helicopter tours of Everest base camp are available as cheap as USD 1,000 / person on a group sharing basis.
Customize Nepal Heritage Tour
Short Everest trek in Heritage Tour