Trekking in Nepal - Poon Hill
"How Nepal won my heart : A girls hiking trip to Poon Hill"
A travel story published in February 2018 issue of 'Thani Talks'. (Page 10 - 11)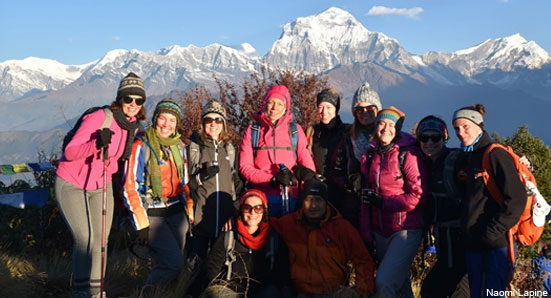 Nepal is small landlocked Himalayan country in South Asia between India and China known as home to some of the highest mountains in the world including Mt Everest. A deadly earthquake in April 2015 put the spotlight on this small nation, and tourism is only now taking off as the country attempts to recover.
Nepal was on my bucket list so when I heard about a girls trip there, I didn't hesitate to sign up ! Kelly Poret organized the tour using itournepal. After taking a closer look at the itinerary, I realized I needed to prepare physically for this trek. Some of you may have spotted us training in the stairwell at N1N2 or breaking in a new pair of hiking boots with wool socks around the Nichanda Lake. So much preparation, so much anticipation, but I must say the experience did not disappoint!
We first took a 3-hours Thai Airways flight to Kathmandu then took a domestic flight via Yeti Airlines (Buddha Air is the other option) to Pokhara where our adventure began. The domestic flight was booked by Rabi, a fun-loving guide who even did Yoga with Kelly on a mountain top.
Poon Hill Trek explores the foothills of Annapurna, famous for Rhododendron forests. Visit Poon Hill from mid-March to mid-April to walk through the Rhododendron blossoms. Get the most awesome pictures of the Himalayas in the frame of red, pink and yellow blossoms.
Poon Hill Trek Package
USD 350
for 4 days Poon Hill trek package for November.
Special offer for December 2019
350 Only USD 320.
Poon Trek Package
Packing for the trek was challenging for me because we had to bring clothes for 5 days, including layers for the varying weather and keep our bags under the 15 kg limit for the porters. Each porter carried two k5-kg bags. Although I would recommend taking most items with you, there were many shops in Pokhara selling gear at reasonable prices. I had never used a trekking pole but it came in handy especially coming down the steep steps on Days 3 and 4.
We spent our first full day in Pokhara visiting the International mountain museum and the Tibetan Refugee camp before taking boat across the Lake and climbing up to world peace pagoda From there we enjoyed some great view of the Pokhara valley at dusk. The following day we set off to Nayapul to start our trek to Thikedunga (1,600 meters). The fairly easy 4-hours walk along the Burungdi Riber was a good warm-up for our first day of trekking. Day 2 was a rude awakening as we climbed the 3,000 steep stone steps to Ulleri and continued through the alpine forest to Ghorepani (2,750 meters). The climb was strenuous, but we were able to stop when needed at the many teahouses that dotted the mountain trail. Lemon ginger honey tea became a favorite.
In Ghorepani the temperature was considerably colder, and I was glad I had bought some extra layers. Day 3 was in many ways our reward day. We woke up early to view the sunrise from Poon Hill. At 3,190 meters this was the highest point of the trail. We were greeted at the summit by an amazing panoramic view of the mountains as the sun illuminated the snow=covered peaks in a multitude of pinks, orange and reds.
Day 3 continued with a breath-taking walk to the village of Tadapani. We passed through the rhododendron forest before arriving early evening at our teahouse with more amazing mountain views. The Fishtail Viewtop Lodge was probably one of my favorite evening on the trek. We had been told that the locals would gather after their evening meal and dance. It didn't take much to persuade our young porters to share their favorite Nepalese music and movies. Such a fun memory !
Day 4 was an easy walk to the charming mountain village of Ghandruk (1,900 meters) where we visited a typical Gurung house. The final day of the trek took us down to Nayapul for our drive back to Pokhara where we were able to enjoy one more evening in the lake city.
For those of you who are wondering, we were able to shower every night, with a range of hot to cold showers depending on location. The accommodations were rustic but clean, and there were a variety of food choices from delicious dal-bhat to curries, Tibetan dumplings (momos) and even some European food.
Some of us brought candy to hand out to the local children. My teacher heart melted as we interacted with those precious kids who knew how to appreciate the simple things in life.
Te people we met in Nepal were beautiful, hard-working and warm. We spotted several generations working side-by-side in the fields. We woke up to the sound of mules bringing supplies up the mountain and gained an appreciation for how accessible food and supplies are to us back home.
You cannot have a successful girls trip without a little shopping. We picked up some great deals on yak products several of us came home with mountain bells and rugs.
We spent our last day in Kathmandu visiting Bhaktapur with its amazing architecture and maze-like streets. The final morning before our flight back to Bankgkok, some of us chose to go on a scenic airplane ride by Buddha Air near Everest. The scenic flight cost $ 200 USD, which seems expnsive but I though, when am I ever going back ! If you opt for a helicopter ride, you can land at Everest base camp. The top of the world left me speechless!
I would highly recommend this family operated company which organizes many tours to Nepal, Bhutan and Tibet. If Nepal is on your bucket list, you can check out his website itournepal.com. Just tell him one of the Nichanda "Master trekkers" referred you !!