Nepali cooking class, market tour and spice guide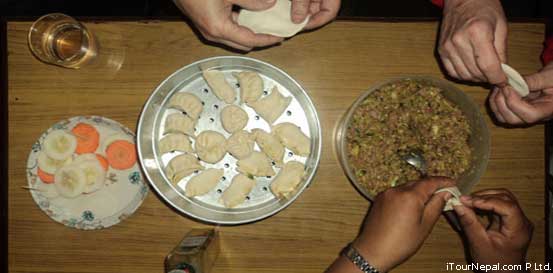 It is not just a cooking class but cultural immersion and a day in a life tour of Kathmandu.
Nepali cuisines are still a harmony of organic food produced by local farmers and Ayurvedic ( medicinal ) spices. Knowing about the ingredients and its medicinal and socio-cultural aspects definitely make you much eager to learn the traditional Nepalese cooking.
We visit the old Kathmandu vegetables and spice market, take a rickshaw ride and do the casual cooking in the local kitchen. This is also interesting for your non-cooking companion as the culinary tour includes a walk through old Kathmandu and visit of classic Nepalese homestay and neighborhood.
Nepali cooking class Inquiry >

Organic food from local women's group
Cereals and most of the ingredients we use for cooking class come from small farmers from different parts of Nepal and also from 'khokana village' in the outskirts of Kathmandu. Here village women are organized to grow organic food, finely process it and utilize the product for economic opportunities. The organization called Sabah Nepal helps to enhance and utilize the local villagers' endogenous skills and create a market for them.
Venue of eco friendly homestay in local community

The cooking class venue is in a government registered homestay – 'Kathmandu Eco Homestay'. The homestay sets an example by adopting eco-friendly lifestyle in Kathmandu. They grow their own vegetables using their little space by rooftop gardening, vertical gardening. We utilize almost all organic waste to make manure from the kitchen and reuse / recycle whatever they can't compost. Even though the neighborhood is in bustling central Kathmandu, it is green and homely for kids and families living around.

Nepali cooking class Inquiry >
Nepali cooking class with homestay
Stay in a local homestay and learn to cook Nepali cuisine with the host. The 2 nights accommodation with two cooking sessions with breakfast and dinner costs USD 100.
Review at Airbnb
Homestay Review
This is a wonderful choice to stay in central Kathmandu. The apartments has all the amenities necessary for comfortable stay. Not only that. It also has a small library with many books on history and culture of Nepal. One of my favorite features however are large plate glass windows and the patio outside with potted flowers and plants. It is centrally located and all the attractions are within easy reach. The hosts extended memorable hospitality and friendliness. I am glad I chose this place to stay. I highly recommend it to any traveler of good will. You will not be disappointed.
- Sergei, San Francisco, CA
300 +
Review in Airbnb