Nepal travel advisory | On-arrival visa resumed
25 January 2022
Nepal is open for foreign trekkers despite the surge in covid cases caused by Omicron variant. Vaccinated travelers with PCR negative reports are eligible to get on-arrival visas and travel without quarantine.
Nepal witnessed the third wave of Covid infection since the beginning of the new year of 2022. 88 percent of the infection is caused by the new variant Omicron.
10 thousand people on average are getting sick with the Omicron variant. However the new variant is not fatal but highly infectious and could be cured at home.
Local authorities have imposed a ban on public gathering and vaccination cards were made compulsory to enter the public places.
According to the Ministry of Health and Population, 53 per cent of eligible Nepali people have received one dose COVID-19 vaccine and 41.4 per cent have received full doses of vaccines.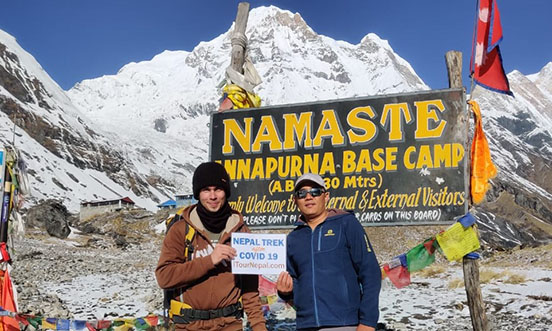 ---
23 September 2021
No more quarantine and on arrival visa resumed
Nepal government on 23rd September 2021, decided to remove the quarantine requirement for travelers and resumed on-arrival visa for those fully vaccinated. Travellers must have received their final dose of vaccine at least 14 days before entering the country to be illegible for on-arrival visa. However, all travelers must have negative tested report of PCR done 72 hrs before the flight.
Those who are not vaccinate must apply for visa at Nepalese mission abroad or get visa recommendation letter from a trekking agency in Nepal. The 7 days quarantine is also mandatory for those travelling without final vaccination.
---
2 June 2021
The ongoing lockdown in Kathmandu valley have been extended till June 14 while relaxing few regulatory measures. At the mean time, the new cases and death rates are down sliding and the recovery rate has increased to 80.8 % on Wednesday, 2 June.
---
18 May 2021
Week long lockdown imposed in Kathmandu and other districts of Nepal on 29 April 2021 was further extended until 27 May. The country suffers a rising trajectory of infections and deaths similar to neighboring India.
International and domestic flights have been cancelled until another notice. However charter flights and two flights a week between India and Nepal are allowed.
Foreigners flying into the Kathmandu Valley are subject to a mandatory 10-day quarantine in hotels upon arrival. A negative polymerase chain reaction test result obtained within 72 hours prior to departure from the country of origin is required for entry into Nepal.
---
Nepal is open for trekking and foreign tourists have started to come for trekking in Nepal. The government on Friday, 19 March 2021 decided to grant an on arrival visa for tourists and revoked the decision of 5 days quarantine. Foreigners can now come simply with a negative PCR report taken within 72 hrs prior to flight. Those with Covid 19 vaccine can come with their vaccine certificate.
Nepal has been successful in naturally controlling Covid 19 by bringing the active cases from 45,000 /- in October 2020 to only 900 in March 2021.
Vaccination of the front line workers, seniors and critical is over and life is back to normal.
Nepal has resumed International and domestc flights from Sept 1. Domestic flights and long distance transportations are going to open from Sept 17. Nepal is all set to welcome foreign tourists from October 1.
21 July 2020 :
Government has decided to resume domestic and international flight from 17 August. The cabinet meeting held on 20th took the decision as the cases of Covid 19 have started to decrease in the country. Flights will be operated by following special health and safety protocol.
Nepal has total 17,844 cases and 40 deaths until 20 July. There are 5,936 active cases which are mostly in the towns bordering with India. Corona virus was brought to Nepal by Nepalese migrant workers in India and most of the cases are in either isolation or quarantine. There are no community level transmissions yet.
With the resumption of International and domestic flights, tourism entrepreneurs are hoping to revive tourism of Nepal. Earlier this month European Union opened its outbound travels and tourist destinations.
Read : Nepal is the safest place to visit during the Covid 19 pandemic
---
6 July 2020 : With most of the countries resuming their international flights and opening up tourist destinations, Nepal could be the safest destination for travelling at the mean time. Nepal is still under partial lockdown at the moment. The total cases of Covid 19 is 15,784 /- with 34 deaths. 6547 people have been recovered. Covid 19 finally came to Nepal with migrant workers from India and were detected in the quarantine in the southern border areas.The community transmission is still under control and the Himalayan region is free from Corona to travel with precautions.
01 May 2020 : Total cases of Corona virus in Nepal increased to 59. Lockdown have been extended till 7 May. Meanwhile peole stranded in Kathmandu and other cities were facilitated to be transfered to their hometown.
15 April 2020 : Corona virus cases increased to total 16 as two new cases found in Kathmandu on 14th April 2020. A 58 years old man and his 81 years old mother were found infected three weeks after they returned from London. The cabinet meeting chaired by PM Oli extended the ongoing lockdown till 27 April. Nepal went into lockdown on 24 March after the first active case of the virus was found. With the extension, total day of lockdown will be 35. Total active cases in Nepal are 15 with no deaths and no critical cases.
Lockdown extended till 27 April 2020
14 April 2020 : As the coronavirus cases increase to 16, Nepal extends lockdown till 27 April. Two new cases were discovered on Teausday in a man and his mother who returned to Nepal from London three weeks ago.
Lockdown extended till 15 April 2020
6 April 2020 : Lockdown in Nepal extended till 15 April after the first locally transmitted case was found in the country. The total active cases of Covid 19 infestion in Nepal is 8.
Partial lockdown imposed from Monday
23 March 2020 : Prime Minister KP Sharma Oli on Monday addressed the nation, advising the public not to panic but to take necessary prevention measures against the spread of novel coronavirus infection in Nepal. He also announced some drastic steps taken to check possible spread of the virus.
Here are some of the announcement made :
All international flights will be suspended March 22 to 31.
Close public and private offices except those providing emergency services from March 22 o April 3.
Halt the operation of long-route public buses from March 23.
Provide Rs 100 million to a fund established by the SAARC nationals to flight the Covid-19.
Travel Advisory for Nepal
All tourist visas are on hold until 30 April
13 March 2020 : Nepal Govermnet decided to stop issuing on-arrival visa to all countries and stopped issuing climbing permits for all poeaks including Mt Everest. The decision was made after the World Health Organization decleared the Covid-19 outbreak a pandemic and urged countries to take precautionary measures. The regulation will come into effect from March 14 and last until April 30.
However diplomatic and official visas will be granted normally.
Government also decided to restrict travellers movement between Nepal and India via land routes. Only emergency visas will be granded to the foreigners willing to come to Nepal. The emergency visa required recent medical certificate.
Similarly all Spring expeditions and climbing permits are also cacelled. The decision put an end to the Everest expedition as well.
France, Spain and Germany also won't get visa on arrival.
10 March 2020 : 3 more countries; France, Spain and Germany were added to the list of countries for whom on arrival visa are suspended temporairly. The new regulation will be effective from 13 March 2020. With addition of these three countries, travelers from following eight countries will have to obtain visa beforehand from the Nepali Mission abroad. Travellers need to submit recently issued health certificate for the visa application.
France, Spain, Germany, People's Republic of China, including Special Administrative Regions, Islamic Republic of Iran, Italy, Republic of Korea, Japan
3 March 2020 : Taking the spread of virus in account and the global recommendations and measures of WHO, the Government of Nepal has decided to temporarily suspend visa-on-arrival for the nationals of the following countries, effective from 10 March, 2020 to till the date of further notice:
People's Republic of China, including Special Administrative Regions, Islamic Republic of Iran, Italy, Republic of Korea, Japan
However, those willing to visit Nepal can obtain visa beforehand from the Nepali Missions abroad. Applicants in these countries are required to submit a recently issued health certificate with the visa application.
---
Visit Nepal Year 2020 postponed
Stake holders of Nepal tourism industries and Nepalese citizens were hoping high about the 'Visit Nepal Year 2020'. The year was targeted to increase number of tourists to 2 million from the 1.1 million in 2019. The global spread of the Coronavirus, made Nepal government to cancel all the promotional activities for VNY2020. The cabinet may soon declare the Visit Nepal Year 2022 instead.
---
---
Nepal travel tips during the Corona virus outbreak
Book refundable flight, hotels and tour services. With the low flow of tourists, it is possible to book logistics which could be paid on arrival or could be cancelled at last moment without big charge.

Avoid crowded places and close contacts. You can fly or drive directly to the trekking trail head instead of staying in crowded cities like Kathmandu.

Have flexible plan.

Take enough sleep and intake extra vitamin C. Ginger Honey Lemon tea is popular in the Nepalese mountains.

Wash your hands constantly.

Clean your hands often by washing them with soap and water for at least 20 seconds or using an alcohol-based hand sanitizer that contains 60%–95% alcohol. Soap and water should be used if hands are visibly dirty.

Because COVID-19 can be more serious in older adults and those with chronic medical conditions, people in these groups should talk to a healthcare provider and consider postponing travel.