Kathmandu is listed as the 5th top travel destination in 2019 by Lonely Planet. The bustling capital of the Himalayan country Nepal made an entry into the 'ten cities primed to capture travellers' imaginations' list. Copenhagen - Demmark, Shenzhen - China, Novi Sad - SErbia and Miami - Florida precided Kathmandu in the list. Maxico City - Maxico, Dakar Senegal. Seattle - Washington, Zadar - Croatia and Meknes - Morroccosecured the second half of the top ten list.
Accoring to Lonely Planet, 3 years after the earthquake, the city is rebuilding to its previous glory. Several historical and archaeological facts have been unearthed wihle digging through its rubble. Better traffic management ban on honking, reliable electricity and wifi unlike in past, wideninig of roads have made the city much quieter than in past.
---
Kathmandu Tour 5 days
Kathmandu valley is a sampler Nepal with mountainous terrain, best of the Himalayan culture, art and architecture and rejuvenating hilltop resorts to watch Himalayas. The 5 days Kathmandu tour pakage includes cultural and heritage sightseeing, hiking and watching sunrise and sunset over the Himalayas.
---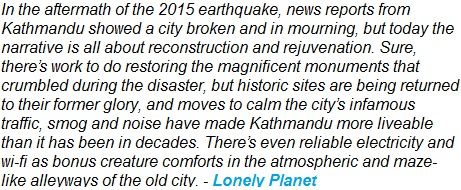 ---
Short trek and hike from Kathmandu
The green hills in the north of Kathmandu is protected as Shivapuri National Park which adjoins with about 1,700 sq km Langtang National park. Spectacular trek from a day to week could be planned from Kathmandu.