16 member expedition team of Bahraini prince Shaikh Mohamed Hamad Mohamed Al Khalifa have arrived in Nepal to attempt the Everest summit. Al Khalifa and his team landed at the Kathmandu airport on Monday on an aircraft of the Bharain Defense Force. The Bahraini royal expedition team includes 13 members serving in the Bahrain Defense Force and the three British nationals.
The group will be quarantined at the Marriot Hotel for a week, as part of the Nepal government Covid- 19 safety protocols. They are scheduled to fly to Lukla airport (gateway to Mt Everest base camp) in the late March and hit the summit in the second week of May. Their total stay in Nepal will be around 80 days.
Prince brought Covid 19 vaccine without approval
The prince also brought 2,000 doses of AstraZeneca shots as a gift for the remote village at the base of Mt Manaslu. However Nepal needs prior approval to bring in drugs. The department of Nepal drug administration is investigating the matter. They will approve the vaccine after investigating if the cold chain and safety requirements were met while delivering the vaccine.
14 Days w/ Everest sightseeing flight
---
The royal mountaineering team from Bahrain also scaled MT Manaslu (8,163 m) on 15 October 2020. The prince Mohamed Hamad Mohamed Al Khalifa became the first Bahraini national to climb a 8,000 m peak.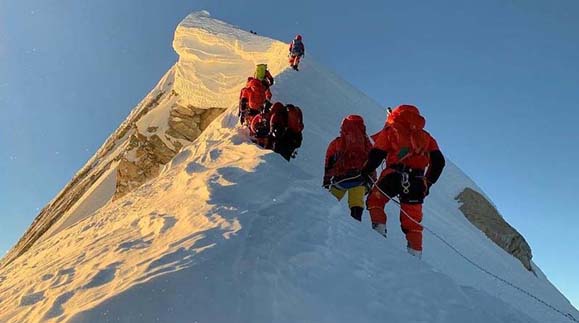 ---
Bahrain Prince Shaikh Mohamed Hamad Mohamed Al Khalifa climbed the Labuche peak 6,119-metre (20,075-foot) in October 2020. The team of the Bahrain Royal Guard and three Britons were given permission to climb the peak amid the Covid 19 pandemic.