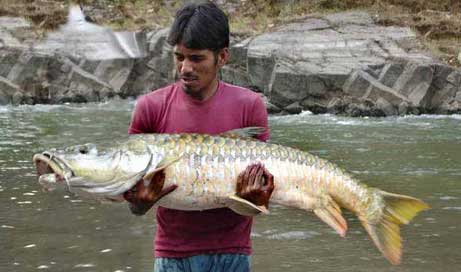 The Himalayan Kingdom of Nepal is also an appealing place for anglers. Different game fish species found in the rivers draining the Himalaya are a pleasant surprise for sportsmen looking for fishing or fly fishing tours.
The most sought after sport fish in these rivers is called "The Himalayan Mahseer", a species not a lot of us are familiar with. It is a species indigenous to the Indian Sub-continent and to one's pleasant surprise it does take very well to artificial baits, and can grow to weights in excess of 55 kg. Furthermore, the Mahseer are a species that have always been regarded as one of the hardest fighting freshwater species of fish.
"The Goonch" is another indigenous catfish species that is to be found in the same waters as the Mahseer. This illusive catfish is perhaps one of the only catfish species in the world with teeth and can grow to 400 lbs! The Himalayan streams are also host to the Trout, which were introduced in the rivers of Kashmir in the turn of the twentieth century. Over the years the fish have been introduced in many high altitude streams and lakes throughout the Himalayas - both Rainbow Trout and Brown Trout are to be found there.
Fishing trip Review
The Bardia River is a wonderfully clear, pristine fresh water fishery with large Golden Mahseer numbering in the hundreds in almost any large deep pool that is to be found on the river.
...
From our starting point at the bridge which goes over the river on the main highway we walked 1.5 km upstream to a spot which had two pools full of fish. The larger fishing hole had large mahseer very actively feeding on small minnows and it was not hard to see them actively feeding (jumping out of the water and splashing about). The site alone of the fish jumping was enough to get any anglers heart pounding. Unfortunately catchcing the large mahseer proved much more difficult as I quickly found out that not only are the fish very spooky, but they are also leader shy. I would imagine that because there are other large predators that would like to eat them they swim away when you get closer than about 50-75 feet from them. Also, when you are trying to catch them you generally only have about six o ten cats before they realize that there is someone trying to catch them and they stop feeding all together. I think it would be quite a fun trip, and one in which many Mahseer are caught if there was a rafting trip that went down the river. If you try and fish the same hole over and over the fish figure it out, but in a raft you only get a handful of casts so the fish will not get scared. I would highly recommend starting a fishing rafting trip and advertising catching large golden mahseer from a raft.
WILL SIMMS - CO, USA (24 - 29 March)
Mahseer Fishing tour package
Himalayan Mahseer fishing tour in Nepal could be planned from a few days to a couple of weeks. A minimum
4 days
is required from Kathmandu to Kathmandu with two full day trips of fishing in Babai River.
Package price starts from
USD 850 / person
for 3 nights 4 days. The Fishing trip package includes all transportations from Kathmandu to western Nepal and back, accommodation, food and necessary permits. Price may vary with group size, type of accommodaion, mode of transportation and other services. Write us to customize fishing tour in Nepal.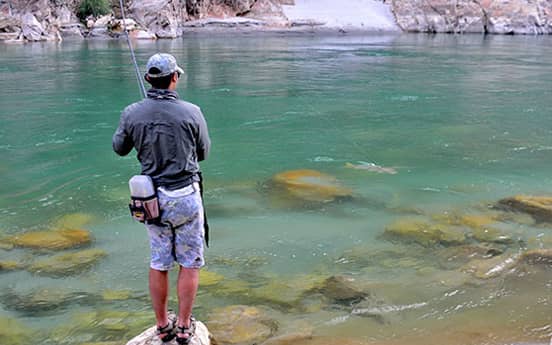 A week's trip could be planned for individual or small groups with camping in the national park or a stay in a safari lodge in Bardia National park.
Two week's Fishing expedition with white water rafting in Seti Karnali River gives ample opportunities of fishing in the more pristine part of the Himalayan rivers.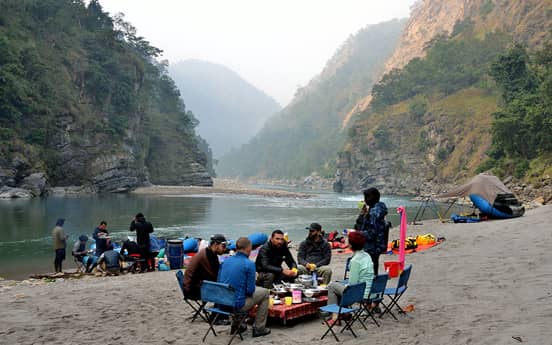 About Golden Masheer
The Golden Mahseer (Barbus tor putitora), was once found in high numbers ranging from Afganistan in the west, through India, Nepal, Bangladesh, Bhutan and Burma (Myanmar). Years of dynamiting, netting, poisoning and hydroelectric plants have put this big-scaled cyprinid on the verge of extinction limiting it to certain rivers in the Indian sub-continent, mainly along the Nepalese Himalaya, and a few in southern India.
The Masheer is a fresh water migratory species that needs large highly oxygenated rivers to survive. Every year, at the start of the monsoon rains, they head up river to spawn. The Golden Mahseer is a highly aggressive feeder and its diet mainly includes fish & aquatic arthropods, as well as algae; they have been recorded to reach over 100lbs (50kg +).
This is the great sporting fish of the Indian sub-continent. The most common way to fish for them is either by bait or by spoon (toby). They have also been known to come to a fly. We specializes in masheer fishing in far west Nepal, either based on our Safari lodge in Bardia National Park, or through dedicated expeditions to remote rivers with our own expert rafting crew.