Homestay in Kathmandu
This home stay program is a combined effort of few host families from a typical neighborhood in the center of Kathmandu. People from the neighborhood are well educated, simple, welcoming and are in hospitality business for long time. Everyone speaks English, which makes you easy to communicate and understand local culture and learn language. Rooms are private with ensuite bathroom, private entrance and kitchenette. You will have meals with the host family as per the deal. Meals are hygienic and contain both western and Nepalese cuisine. Inquiry >
What a wonderful apartment to arrive to in kathmandu for the first time! Less than 10 min walk from Thamel and away from all the hustle and bustle (comparative to the rest of kathmandu). This home away from home is perfect for anyone wanting to come and go or even spend your day reading on the outdoor area. Starting our day with cup of tea on the outdoor sitting area where you get to see kathmandu come to life is an experience in itself. You just want to sit back relax and take it all in. Kopali and Rabi the two host are more than welcoming and are enthusiastic to help your stay be enjoyable. If your looking at Trekking (Everest base camp) like we were then this is the right place. Rabi has been in the trekking industry for more than 20years and has a small company which can help you with any planning you may need. I hope to be able to stay here again one day as it truly was such an amazing experience for us. Thanks again Kopali and Rabi, much love. Grayson
Host profile / Reviews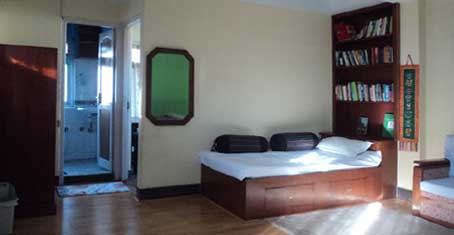 Homestay & Nepali cooking class
Homestay is best way to learn cooking Nepalese food as well. Nepalese cuisine is simply known as 'Dal Bhat' (lentil soup ad steam rice). However it is combination of variety of vegetable curries, pickle, soup (beans or lentil) with steam rice. Still more than 70 % of people grow their own rice, lentils, spices and vegetables and eat organic 'Dal Bhat'. At our homestay cooking class, we present Nepalese cuisine as in old days seasoned with traditional Ayurvedic Himalayan herbs. This is like private cooking class with complete knowledge of spices and an experience of being with Nepalese family.
Homestay cooking class Inquiry >
Bed and Breakfast
While homestay is short term stay, our bed and breakfast program caters to medium or long term visitors. Breakfast is homemade sumptuous, usually served in the dining room or private balcony. Privacy and sociability are equally available depending on the preferences of the guest. Hosts of Bed and Breakfast are well trained and the cleanliness and hygiene meets the standard of three star. At the same time home-like atmosphere and personal pampering are compared to none. Moreover, our bed and breakfast hosts are expert on treks, travel and tourism which will be a great help for you to plan a trip.
Inquiry >
Homestay tour in Nepal
Several trekking trails have been introduced by UN under the title 'Tourism for rural poverty elevation program (TRPAP)'. These trails specific to certain culturally rich ethnic groups, are pristine and culturally rich. The community managed guesthouses and homestays provide a different perspective to the tour.
Chepang Heritage Trail 7 night 8 days
Tamang Heritage Trail 7 night 8 days
Sirubari Village Tour 2 night 3 days