There are no 'drive yourself' rental cars available in Nepal but you can easily hire cars with drivers.
It is quite popular to hire a car to Pokhara, Chitwan and Lumbini. You can also rent a four wheeler (4WD) to get to trekking trail heads such as Syaprubensi in Langtang and Besisahar in Annapurna and to Jiri in Everest.
iTourNepal.com (p) Ltd. with its own vehicular requisites and wide network throughout Nepal (Kathmandu, Pokhara, Chitwan and Lumbini), has been a reputed company to meet your car rental needs. We are committed to provide problem free cars to suit individual as well as corporate rental needs as per requirement of valued customers. We ensure that you have a good and reliable service experience during the whole term of the contract.
Booking Inquiry >
Rent 4WD to Halesi Mahadev aka Maratika cave
We have been successfully organizing overland trip to Halesi Mahadev (Maratika) cave of Khotang Nepal. Halesi cave is sacred for both Buddhist and Hindus alike. For Hindus this is the place where demon Bashmasur was born to ash, tricked by Vishnu. For Buddhist Halesi cave is Maratika the place where Guru Rinpoche (Padmasambhava) attended Vidyadhara of longevity.
Round trip to Halesi takes 2 days from Kathmandu. We can drive directly to Halesi on the newly constructed highway from Dhulikhel - Ghurmi - Halesi. Part of the road is dirt road and needs 4WD. The one way journey is about 10 hrs.
Write us for complete logistci support for Halesi trip.
Halesi Trip Inquiry > | About Halesi >
Rent 4WD Land Cruiser / Scorpio to Jomsom / Muktinath
With the extension of road to Jomsom & Muktinath, it is possible to drive. With accumulation of monsoon clouds and rain, Jomsom flights are frequently cancelled. This is the best off road trip in Nepal. Contact us to rent a 4WD Scorpio of Land Cruiser to Jomsom / Muktinath.
Rent 4WD to Muktinath >
4WD Land Cruiser to Manang
Manang is another trans-Himalayan destination that you can drive these days. Located at the base of Annapurna Himalayas, Manang retained its Tibetan enclave for centuries. The district reached only by donkeys and mules is now accessed by road. We have been renting out 4WD for road trip to Manang.
Rent 4WD to Manang >
Gorakhpur - Sunauli - Kathmandu car rental service
We also organize car rental service from Kathmandu to Sunauli border and then to Gorakhpur. We can also pick you up from Gorakhpur - India or organize rental for Buddhist pilgrimage sites or Varanasi, India.
Write us >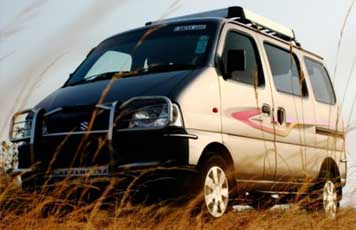 Economic car rental for Manakamana, Dakshinkali and other pilgrimage sites
If you are planning family tour or trip to Manakamana and Dakshinkali, 7 seat Eeco van is what we recommend. This is the safest, comfortable yet economic choice. The van has seven comfortable seats, spacious interior, high seating and fuel efficient but powerful engine. Write us to rent the van for your next family trip to Manakamana, Dakshinkali or other sites.
Quick and easy
domestic flight
booking service in Nepal.
More >
Lumbini Buddhist circuit Tour
3 days Lumbini Buddhist circuit tour
of Kapilavastu, Kudan ...More >
Everest Sightseeing Flight.
With free airport car !
More >