Kathmandu valley Tour
Culturally and naturally, Kathmandu valley resembles the whole of Nepal. For centuries, it has been tolerant to different culture, religion and ethnicity. In the backstreets of bustling town, the medieval Katmandu thrives bedecked in its marvelous wood carvings and terracotta. Kathmandu is dotted with historical Pagodas, pavilions, stone water spouts, stupas and monasteries. Seven groups of them make Kathmandu a UNESCO Heritage site. The Shivapuri national park and protected community forests in the valley rim offers splendid day hike and short trek with Himalayan view. Find touring places in and around Kathmandu.
Pokhara tour and surrounding Pokhara is renowned as the 'natural capital' of Nepal for its astounding setting of beautiful lakes and lush hills with close view of Himalayas in the northern skyline. With the backdrop of three 8,000 m snow peaks, Pokhara provides the ground for various adventure activities such as trekking, mountaineering, White water rafting and paragliding.
Touring places of Pokhara >
National parks and jungle safari
Large portion of Nepal is being protected as National Parks and Wild Life Reserves. These protected areas are glorified with diverse wildlife and exotic bird species. Chitwan and Bardia are last vestiges of Terai which once spread north of Indo-Gangetic planes till the foothills of the Himalayas. Acknowledging the importance of conservation of the region, Chitwan National Park is declared by UNESCO as World Heritage Site. A full board package based in safari lodges give you chance to explore the jungle on elephant back, four wheel drive, guided jungle walk, canoe ride and more.
Chitwan National park Bardia National park
Lumbini Tour :
The birth place of Buddha
Beside being the center of reverence for Buddhist, Lumbini also provides an insight on ancient civilization unveiled by modern archaeological excavation. Series of excavations have discovered various edifices from Buddha's time and even earlier. The Modern Lumbini is 3 sq miles of planned area with Sacred Garden, Monastic Zone and Lumbini Village. The tour of Kapilavastu, Kudan, and Ramgram worth an extra stay in Lumbini area.
Lumbini Tour package - 4 days Buddhist pilgrimage tour of Nepal - 10 days
Bandipur Tour
Bandipur is a hill town overlooking at the Himalayas with the reminiscence of centuries old trans-Himalayan trade. The town is getting more attention of tourists for its easy access and unparallel beauty. One can still see most of the houses with carved windows and slate roofs and the ground floor that opens towards streets for business. With its exquisite panorama of Annapurna and Manaslu ranges, it is often considered as natural view tower. Bandipur at 1,030 m is just 8 km from the Kathmandu – Pokhara highway. It is 143 km from Kathmandu and just 80 km from Pokhara. Stopping at Bandipur will give more insight in Nepal than the tourist centers of Chitwan and Pokhara.
Walk around the cobblestone streets of Bandipur to Khadga devi temple, Tundikhel and climb the hillock marked by Thani Mai temple for sunset view over the Himalayas. If you stay another day in Bandipur, walk to the charming Magar village or Ramkot.
Tour Inquiry > 12 days nepal tour package with bandipur >
Daman
Daman is one of the highest and less visited hill stations in central Nepal. At 2,360 m, Daman offers vista of the longest range of the Himalayas from Dhaulagiri in the west to Mt Everest in the east. It lies 80 km southwest of Kathmandu along the Tribhuvan Highway also known as 'Byroad'.
Tour Inquiry 12 days nepal tour with daman
Tansen (Palpa):
Situated at 1,350m above the sea level, Tansen (Palpa) is another hill station famous for its rich culture and Himalayan view. Tansen lies midway between Pokhara and Lumbini / Sunauli India Border. Tansen is a romantic, medieval hill town full of Newari shop-houses and temples. Being perched high up at Srinagar Hill, Tansen also offers the
scenic melody of planes, hills and the Himalayas. After the downfall of then kingdom in 18th Century, Tansen was reinvented as a Newari trading post on the trade route between India and Tibet. Metalworking and weaving dhaka, the fabric used for traditional Nepali custom are still important local industries.
Tour Inquiry rent car to tansen
Jomsom & Muktinath:
The once remote town of lower Mustang (Jomsom - Muktinath) is a famous tour destination at present . With access by rugged road and several flights, Jomsom and lower mustang region has become a famous destination for those looking for short easy hiking and cultural tour. Just fly to Jomsom and experience the warm hospitality of 'Thakali' in the trans-Himalayas of Annapurna. Enjoy the view of Nilgiri soaring into the sky. Hike up to Dhumba lake, Kagbeni or horseback ride to Marpha and Tukuche. Muktinath is just 2 hrs drive away from Jomsom.
jomsom trek > Muktinath Pilgrimage Tour Jomsom Flight Booking
Janakpur: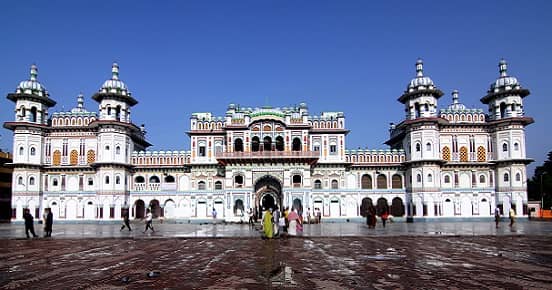 Janakpur is one of the important Hindu pilgrimage sites. It is the capital of Mithila where legendary heroin Sita (Ram's spouse) from the epic Ramayana was born.
The 16th century Janaki temple and the sacred ponds of Dhanush Sagar and Ganga Sagar are the center of attractions. The Vivah Mandap temple is believed to be a place where Lord Rama and Sita were married.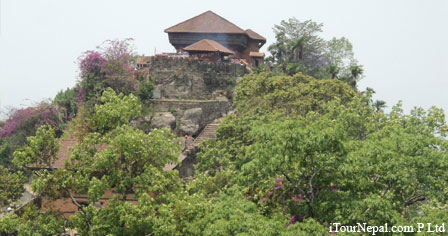 Gorkha
Gorkha, the original home of the Shah kings remains a historical and commercial center. It is 24 km detour off the Kathmandu to Pokhara Highway. Even though Gorkha Bazaar is the base for treks in Manaslu region, village tour and day hike could be planned for culture vultures. A climb to the ridge (300 m) is worthwhile for the panaroma of Manaslu Range and historic Gorkha Palace.
Gorkha & Manakamana Tour >
|
Rent a car to Gorkha >