Short trek in Nepal with us
Expertise over 15 years.
Cost effective yet rewarding treks.
Personalized service with good value of money.
Eco friendly & sustainable trek.
About us >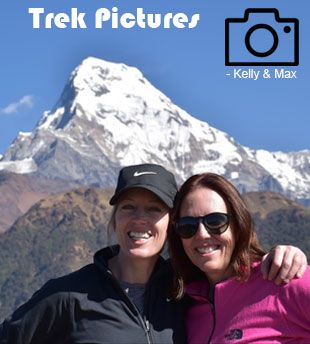 Annapurna trek blog
Annapurna trekking blog of Rob and Katrine. Read their trekking experiences.
Read Blog >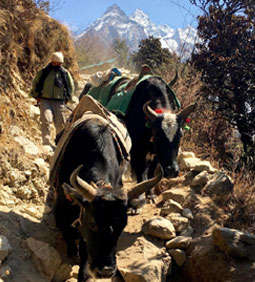 Vanesssa went on short Everest trek with us. Read her blog to get details of the trek.
Nepal walking holiday
Gentle walking holiday in Nepal with comfortable stay
Nepal walking tour is for those looking for gentle walking holiday with relaxing stay in the foothills of the Himalayas with exotic cultural experience and Himalayan scenery.
Details >
Langtang Heli Trek
Langtang Heli-trek is the best way of experiencing Himalayan trek for those short of time. The helicopter flies into alpine meadow surrounded by snow peaks leaving us with easy and scenic peace of trek.
Details >
Trekking with kids
Family trek in the Himalayas
We have long experience of organizing treks and other adventures in the Himalaya for family and kids. We have choices of Hotels with interconnecting bedrooms and interesting and educational activities for them.
Write us >
Kathmandu - Lhasa Tour
Combine short trek in Nepal with 3 nights 4 days Lhasa Tour starting and ending in Kathmandu, Nepal.
Kathmandu - Lhasa Tour >
Bhutan Tour (4 days)
Combine your short trek in Nepal with Bhutan. Experience the warm hospitality, culture and unsurpassed nature amid homely comfort. Details >
Witness the mystic Tantric Buddhist festival of Tiji in Mustang, the last vestiges of medieval Tibet.Details >
Optional Activities
EVEREST sightseeing flight
1 hr EVEREST sightseeing flight leaves every morning from Kathmandu. This is the best way of capturing 5 out of the 10 highest mountains in the World including Mt. Everest.
Mountain Flight Inquiry > | More >
Chitwan National Park is home to many endangered mammals including one horned rhinoceros & Royal Bengal Tiger.
check >
Adventure in Pokhara
Pokhara provides ground for adventure tourism. Try the World's most extreme Zip Flyer. Accelerate down 2,000 ft with speed of 140 KMH. Make your free flying dream comes true by paragliding or get close to mysterious Himalayan peaks with Ultra light flights. All in perfect natural setting of Himalayan peak and turquoise lake. More >
Yoga Relaxation package
Yoga for pre & Post trekking stretching and muscle relaxation combined with meditation. Details