See Bhutan Tour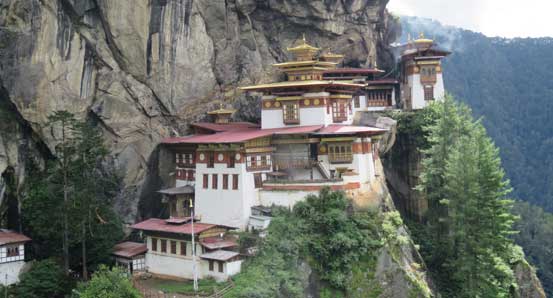 The Bhutan tour starts with 1 hour spectacular flight along the Himalayas from Kathmandu to Paro, Bhutan. We will visit Thimphu and Paro that provides glimpse of Bhutan's cultural life, religious practice, art and architecture. The tour is an opportunity to expand your horizons and make cross cultural connections. The 4 days tour features highlights of Bhutan.
USD 1,250 Only USD 1,175 for 23 Dec
4 days Bhutan Tour (Paro & Thimphu)
Duration: 9 nights 10 days tour
Type: Gentle walking, sightseeing
Season: Mid Sept - April
Attraction:
Tour of Paro, Thimphu, and Punakha ; hiking to Tiger's nest (Taktsang monastery), hike to Chokortse monastery, Cheri Gompa and Chimi Lakhang
Tour Itinerary
Day 01: Fly to Paro | Drive to Thimphu (2 and half hrs)
The flight from Kathmandu to Paro, Bhutan is panoramic thrill. The breath taking views of Mount Everest, Kanchenjunga (3rd highest) and other famous Himalayan peaks, including the sacred Mount Chomolhari and Jichu Drake of Bhutan awaits us. Upon arrival at Paro airport, our travel represent will receive you and we drive to Thimpu-the capital city of Bhutan. This 2 ½ hrs drive snakes along the Paro and Thimphu rivers offering gorgeous views at every turn. After lunch, visit the sights such as Memorial Chorten, National Library, Handicrafts Emporium where Bhutanese textiles and Painting School etc. Overnight in Thimphu.
Day 02 : Thimphu sightseeing | Drive back to Paro
visit Simtokha Dzong - the oldest fortress of Bhutan, Tashichho Dzong - the main Secretariat Building, that houses king's throne and state monastic body. Tashichho Dzong meaning 'fortress of the glorious religion' was built in 1641 by the political and religious unifier of Bhutan, Shabdrung Ngawang Namgyal. We will also visit the Pangri Zampa monastery. Other places of interest in Thimphu are National Library, Textile and Folk Heritage museum and King's memorial Chorten. In the late afternoon, drive back to Paro.
DAY 03 : TOUR AROUND PARO OR TAKSTANG MONASTERY HIKE (TIGER'S NEST)
Visit Drugyal Dzong -a ruined fortress - 16 km away from Paro town from where you can also enjoy the views of Mount Chomolhari "Abode of the Goddess Chomo". On the way back from Drugyal Dzong, we will visit a typical Bhutanese farm house. After lunch in the hotel, we will visit the National Museum (Ta-Dzong), which originally was the Watch Tower of the Paro Rinchen Pong Dzong. Visit Paro Rinchen Pong Dzong- the administrative seat of the district of Paro and it also contains a state monastic community of about 200 monks. In option to the visits of Dzong, you can take Takstang Monastery Hike. The monastery is perched on a rocky ledge with a sheer drop of nearly 800m and overlooks the Paro Valley and river. The round trip hike takes about 4 hrs. Evening free to stroll in Paro to shop or to visit some village homes.
DAY 04 : DEPART BHUTAN
We are transferred to airport for our flight to next destination.