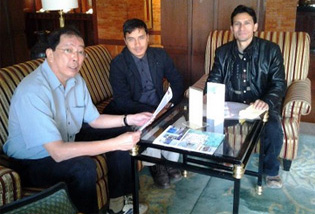 We have reached home safely and would like to convey our deep appreciation to you and your team for making our Nepal holiday such an interesting and memorable experience.
It was indeed a great pleasure to have met you personally... after all the "to&from" emails prior to confirming our tour with your company (iTourNepal.com P Ltd). Your commitment, patience and smooth coordination of our tour is highly commendable. Your warm Nepalese hospitality and friendship will be deeply cherished. Please convey our regards to Shiva too. Warm wishes from
Jeffrey & Jercy of Malaysia
.
I Tour Nepal - Homestay and Trekking review
I was a lone female traveller visiting Nepal in August. Having looked at a variety of different tour companies, I was very impressed by the website of www.itournepal.com, as well as their promotion of sustainable tourism through agricultural projects and homestays.
Rabi, my contact at the company, replied to all my enquiries swiftly and in great detail - which was very much appreciated.
I decided to book a week's stay in the Kathmandu homestay offered by the company, from which I would base myself for the beginning of my trip. I also booked a 10 day trek to Annapurna Base Camp via Poon Hill. The homestay was a truly fantastic experience. Rabi, Kopila, Karuna and family were incredibly welcoming, my room was beautiful, and the local bustle of Nayabazar provided a wonderful alternative to touristy Thamel. I would recommend staying here 100%. My trek was also above and beyond what I could have expected. I had a lovely guide who spoke very good English and provided interesting, engaging company for the duration of the trek. He was conscientious, kind, and looked after me very well indeed. Again, I was
highly impressed in the service offered by both my guide himself and I Tour Nepal.
All in all I can say that this is a tour company with a big heart, and a brain to match. The tour operators genuinely want you to enjoy your trip as much as possible, and at the same time they have a very forward-thinking approach to tourism in Nepal - promoting agritourism and local-living.
They made my trip to Nepal a truly unforgettable experience, for which I will always be
grateful. - Alice Burks London 12 May 2012
Top Class Hotel, Transport and Tour
We thoroughly enjoyed our stay in Nepal so a big thanks to 'I Tour Nepal'. From the day we arrived to the day we left, everything was looked after which made our stay there a whole lot easier with less to worry about and more enjoying to do. The hotels, transport and tour of each place was top class and very enjoyable.
One of the highlights was definitely the 2 day trek to Dhampus which gave us spectacular views of the Himalayas! The mountain flight was also a highlight which took us up close to the highest mountain in the world - truly amazing!!
But the most memorable thing we found was the people in Nepal. All of you have been so friendly and amazing that it blew us away! You, Jyoti, Ashok, Abi and even the hotel staff were very accomodating and friendly so a big thanks!! We also enjoyed the visit to the preschool and spending time with the children. Sara - New zealand
Walter Waldner
3452 Heiligeneich
ST. Poltmehstrasse 43
Austria
Dear Rabi,
Thank you for the nice tour, especially for your guiding to base camp. I am in love with Nepal and its people. I appreciate your team for being conscious about environment issues. This is what is really needed in your beautiful Nepal.
It was a wonderful experience to see Tibet, and we really were lucky to get the Visas. Rabi & Shiva from the tour company were excellent guys. They managed to get the visas that no one else could, and they organised everything for us and it all went so smoothly. I can only say great things about them and the Tibetan guide they picked for us, they were with us all the time and were a wealth of knowledge and info. I would recommend using them for anything you need in Nepal or Tibet. Rob and Katrine, 18 Nov Read Blog >
Annapurna Base Camp Trek
We had our trek organised by ITourNepal, a company that were truly great in everything they did. Read More
Tour Reviews
Stayed here for 4 nights as arranged by itournepal.com, which was an excellent company to see Nepal with.
Excellent location, right in Thamel, but away from the noise of the main street. Everyone you need is walking distance. Free Internet on 2nd floor. Full Review >
Client's review and activities in facebook
Hi! I just got back 2 weeks ago from 2 weeks in Nepal. I spent some days in Kathmandu and environs and 6 days of trekking, starting in Pokhara:
Kathmandu by bus to Pokhara, from there to Ulleri, to Ghorepani and to Poon Hill, then back through Gandruk to Pokhara. I did not have so much time and this only short trek was recommended and organized by "iTourNepal" (www.iTourNepal.com).
Matthias Frey (Switzerland)
Friendly Services, homely environment
First of all going to Nepal, Kathmandu particularly, you should realize that huge cities are always very noisy, Kathmandu is not exception, sometimes it is even too noisy, so the first impression when we entered the hotel was very quiet place in the center of Kathmandu and in the center of tourist Thamel area, seems to be almost impossible, but that is it! (Hotel Holy Himalaya)
Very friendly staff made us feel so comfortable in process of seeing and choosing rooms where to stay. That is not the only one small thing, which the hotel and travel agency staff helped us to do, because there was a great help from all people we met there in each and any way. From booking hotel, renting car, planning our trip up to their help with our personal visa arrangements, in which we also could absolutely rely on them.
We want to say special thanks to Rabi who was so helpful and did so much for us and solve our constantly appearing problems during all our stay and travel in Nepal and to all staff we met there.
Thank you very much again.
Next time when we come to Nepal, we know where to stay and with what agency to travel to feel safe and sure.
With best regards and great remembrance,
Irina & Bishal.