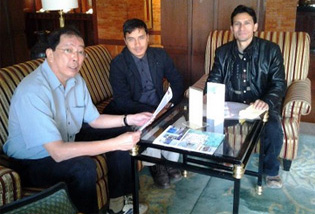 We have reached home safely and would like to convey our deep appreciation to you and your team for making our Nepal holiday such an interesting and memorable experience.
It was indeed a great pleasure to have met you personally... after all the "to&from" emails prior to confirming our tour with your company (iTourNepal.com P Ltd). Your commitment, patience and smooth coordination of our tour is highly commendable. Your warm Nepalese hospitality and friendship will be deeply cherished. Please convey our regards to Shiva too. Warm wishes from Jeffrey & Jercy of Malaysia.
Client's review and activities in facebook
Serry Richchardson - 28 May 2013
I was so impressed with your immediate response to my initial letter of interest; as well as the myriad of my emails that you patiently answered. The others in in the first group commented on how much they appreciated your honest and quick responses.... we all concur that your interest in our desires and needs were the main reason that we went ahead with the tour. Sharon and I had also contacted other tours to get information and prices, but did not get responses or received vague and generic responses, but your personal responses hooked us to choose itrournepal.
Click for full Review >
Thank you, too, for the flexibility you allowed in me to choose what "I" wanted to do and see ... and not forcing me into a cookie cutter tour. I definitely told you that I had five requests: the Potala Palace, Tiger's Nest, Bhutan, Base Camp, and that I wanted to see the country; the way the real people live. "See the country" seemed to be called "overland" and it worked for me.
I am appreciate of your greetings, and gatherings, and briefings; of the phone calls to check in with us to be sure we were safe and sound while in other countries. All those things contribute to a feeling of caring about us and caring that we are safe and enjoying ourselves.
Bhutan was my favorite. The people were beautiful and kind. The pace was perfect for the peaceful setting. The hotel was spectacular. The food was the best of the three countries. Even though I rode the horse 2/3 of the way up to Tiger's Nest, I was not prepared for the strenuous walk the rest of the way to the Tiger's Nest. I did it, but it was a killer because of the altitude and the unevenly spaced stairs and uneven heights on the stair risers.
I acknowledge that I am a 67 year old woman who is a cowardly hiker. I found that if I just went my own pace; that I could get the job done. Fortunately, the 30 year olds in our group were very considerate of my age and lack or prowess and allowed me to go slowly and wheeze, and pant, and gasp for air. They were really good kids.
Because you are young, you don't have the ability to have the knowledge that people my age are in a bind. If they go others who are in their late 60s, they usually do not trek in, or want to push themselves, or go "out" and do things. Most of them have bad knees and bad backs and wouldn't even be able to do such a tour. But..... if I go with younger people, then I hold them back and they probably felt like there were baby-sitting me. The other three tourists, were just good people and I appreciated their character, intelligences, and kindness.
As we talked as a group, we thought there was too much religion. We all tried to learn from the tours of the temples and keep the doctrine together but found out that it varied temple to temple and that maybe each temple and each Buddha has a slight twist on some original religion. It was mind boggling and perplexing. We also pondered that maybe religion and history can't be separated; that it is impossible to filter the history out as pure history.
The book, Mustang, definitely enhanced my time in Tibet. I learned about some of the customs, the forts, the wars, the history. It make the country and the people seem to come to life. It might be good to have some such historical books like that in the van so tourists could read them the hours and hours they are driving in and out of base camp.
By the end the last two temples in Tibet, we were super saturated with temples and statues and even begged with the guide..... please, please.... no more temples. Our brains were just bulging with temples and religion. Maybe you could cut back on the number of temple tours or else have a checklist of the temple tours that the people think they would like to visit. The Fertility Temple in Bhutan and the walk through the fields to get there, and the home meal in the farm house.... was a real hit with me and definitely stands out in my mind as a favorite.
Rabi, the trip far exceeding my expectations. You are a phenomenal organizer, corresponder, and tour guide. It is very difficult to build up the nerve to go to such foreign and remote countries..... TV programs and news makes cowards of us all.
Somewhere along the line.... it takes a huge leap of faith to commit to such an adventure. Thanks to your emails..... I took the leap and had a superlative time.
Lone Female Traveler review
I was a lone female traveller visiting Nepal in August. Having looked at a variety of different tour companies, I was very impressed by the website of www.itournepal.com, as well as their promotion of sustainable tourism through agricultural projects and homestays.
Rabi, my contact at the company, replied to all my enquiries swiftly and in great detail - which was very much appreciated.
I decided to book a week's stay in the Kathmandu homestay offered by the company, from which I would base myself for the beginning of my trip. I also booked a 10 day trek to Annapurna Base Camp via Poon Hill. The homestay was a truly fantastic experience. Rabi, Kopila, Karuna and family were incredibly welcoming, my room was beautiful, and the local bustle of Nayabazar provided a wonderful alternative to touristy Thamel. I would recommend staying here 100%. My trek was also above and beyond what I could have expected. I had a lovely guide who spoke very good English and provided interesting, engaging company for the duration of the trek. He was conscientious, kind, and looked after me very well indeed. Again, I was
highly impressed in the service offered by both my guide himself and I Tour Nepal.
All in all I can say that this is a tour company with a big heart, and a brain to match. The tour operators genuinely want you to enjoy your trip as much as possible, and at the same time they have a very forward-thinking approach to tourism in Nepal - promoting agritourism and local-living.
They made my trip to Nepal a truly unforgettable experience, for which I will always be
grateful. - Alice Burks London 12 May 2012
Stay with Nepali family in Eco home and learn Nepalese cuisine. Walk to the local market, know Nepalese herbs and spices with Ayurvedic significance and cook the best traditional Nepalese dinner with local family.
More >
It was a wonderful experience to see Tibet, and we really were lucky to get the Visas. Rabi & Shiva from the tour company were excellent guys. They managed to get the visas that no one else could, and they organised everything for us and it all went so smoothly. I can only say great things about them and the Tibetan guide they picked for us, they were with us all the time and were a wealth of knowledge and info. I would recommend using them for anything you need in Nepal or Tibet. Rob and Katrine, 18 Nov Read Blog >
Annapurna Base Camp Trek
We had our trek organised by ITourNepal, a company that were truly great in everything they did.
Read More >
Hi! I just got back 2 weeks ago from 2 weeks in Nepal. I spent some days in Kathmandu and environs and 6 days of trekking, starting in Pokhara:
Kathmandu by bus to Pokhara, from there to Ulleri, to Ghorepani and to Poon Hill, then back through Gandruk to Pokhara. I did not have so much time and this only short trek was recommended and organized by "iTourNepal" (www.iTourNepal.com).
Matthias Frey (Switzerland)
Friendly Services, homely environment
First of all going to Nepal, Kathmandu particularly, you should realize that huge cities are always very noisy, Kathmandu is not exception, sometimes it is even too noisy, so the first impression when we entered the hotel was very quiet place in the center of Kathmandu and in the center of tourist Thamel area, seems to be almost impossible, but that is it! (Hotel Holy Himalaya)
Very friendly staff made us feel so comfortable in process of seeing and choosing rooms where to stay. That is not the only one small thing, which the hotel and travel agency staff helped us to do, because there was a great help from all people we met there in each and any way. From booking hotel, renting car, planning our trip up to their help with our personal visa arrangements, in which we also could absolutely rely on them.
We want to say special thanks to Rabi who was so helpful and did so much for us and solve our constantly appearing problems during all our stay and travel in Nepal and to all staff we met there.
Thank you very much again.
Next time when we come to Nepal, we know where to stay and with what agency to travel to feel safe and sure.
With best regards and great remembrance,
Irina & Bishal.
Top Class Hotel, Transport and Tour
We thoroughly enjoyed our stay in Nepal so a big thanks to 'I Tour Nepal'. From the day we arrived to the day we left, everything was looked after which made our stay there a whole lot easier with less to worry about and more enjoying to do. The hotels, transport and tour of each place was top class and very enjoyable.
One of the highlights was definitely the 2 day trek to Dhampus which gave us spectacular views of the Himalayas! The mountain flight was also a highlight which took us up close to the highest mountain in the world - truly amazing!!
But the most memorable thing we found was the people in Nepal. All of you have been so friendly and amazing that it blew us away! You, Jyoti, Ashok, Abi and even the hotel staff were very accomodating and friendly so a big thanks!! We also enjoyed the visit to the preschool and spending time with the children. Sara - New zealand