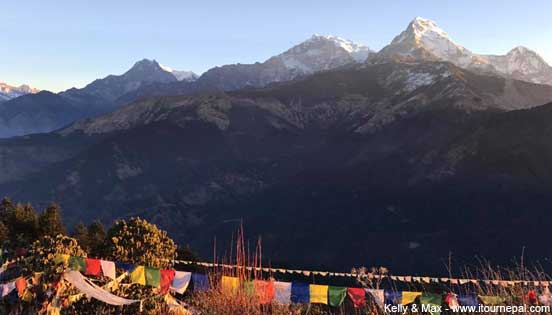 A short teahouse trek in Annapurna
Duration: 09 Days Kathmandu to Kathmadu

Possible to customize for 6 days
Trekking Days:
5 days
Season:
Sept. to May
Means of Transportation:
Private vehicle and Flight
Ghorepani / Ghandruk trek Attractions:
Short and moderate teahouse trek in the main Annapurna Trail
Culturally rich and environmentally sound eco trek
Ghandruk village tour and Himalayan scenery
Ghorepani - Pun Hill Trek Itinerary
DAY 01: Kathmandu arrival | Transfer to Hotel
DAY 02: Kathmandu sightseeing tour (Kathmandu Palace Square, Swyambhunath Stupa, Boudhanath Stupa and Pashupatinath)
DAY 03: Fly or drive to Pokhara | Transfer to Hotel | Explore Pokhara
DAY 04: Drive to Nayapul and trek to Thikedunga (4 hrs gradual climb).
DAY 05: Trek to Ghorepani (6 hrs) and stay in teahouse. Ghorepani village offers one of the best view of Annapurna and Dhaulagiri Ranges.
DAY 06: ( Pun Hill ) In the early morning, hike up to Pun Hill (3,200m / 1 hrs) for sunrise view over the Himalayas. Pun Hill offers undisturbed view of snow clad peaks of Annapurna and Dhaulagiri ranges. Get down to Ghorepani village for breakfast and then we trek along the ridge to Tadapani. The day's walking is interesting through the Rhododendron forest. From the clearing of tadapani, Annapurna South, Fishtail and Huinchuli appears magnificent.
DAY 07: Trek down to Ghandruk Village (1,900m / 3 hrs). This is the second biggest Gurung Village. The village is interesting as the Gurungs here maintain their age-old tradition. Animistic practice is mixed up with Buddhism. Local Museum and visitor's Center explains a lot about their culture. Villagers perform a cultural show on request.
DAY 08: Trek down to the ( Ghandruk besi ) valley basin and walk along the Modi river to get to Nayapul, from where we drive back to Pokhara.
Day 09: Drive or fly back to Kathmandu
Day 10: Drive to the airport for final departure.
Ghorepani Trek
This picturesque short trek passes through charming villages, rhododendron forest in the forefront of the giants of Annapurna and Dhaulagiri. A final high point reveals majestic views of over 15 snow peaks including 3 of the ten highest mountains in the world. The route is managed by Annapurna Conservation Area Project (ACAP) for sustainable and eco trek.
Ghorepani - Ghandruk Village
Ghorepani is the village on the way to classic salt trading route. The village is located northwest of Pokhara, in the vicinity of 'Annapurna and Dhaulagiri Range'. The mountain pass was used by caravans as a resting place after a big climb from the kaligandaki valley. Hence the place got its name after the water drinking place for horses.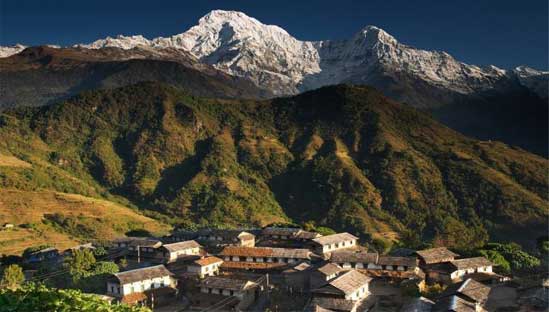 Ghandruk still retains their age-old animistic and Shamanism (Jhankri) practices. Here, the modern Tibetan Buddhism and ancient 'Bon' practices come together. Even though Ghandruk village has significant income from remittance, the village remained untouched by modern bizarre. The village is highly self-sufficient. Beside regular farming, villagers spend their leisure weaving clothes, baskets and managing their resources.
Ghorepani & Chitwan National Park
The southern plains of the Himalayas are boasted with diverse wildlife. Among many marvelous conservation works, Chitwan National Park is famous for its increasing number of one horned Rhino, Royal Bengal Tiger and Asian elephant. Stay in the hidden luxury amid wild animals and capture them in your camera in their natural habitat.
Ghorepani trek with Seti Rafting
Seti is a really unique, pleasant and picturesque river passing through two beautiful and contrasting scenic areas. Relatively small volume, blue and warm water makes Seti a perfect rafting for beginners, intermediate and family. Seti rises on the southeast slopes of the sacred Mountain Fishtail and then flows to south, as a fairly typical Nepalese mountain river.

Duration : 14 Days
Ghorepani Trek, Seti Rafting, Jungle Safari
Tour Inquiry >